The Royal Spa Centre
The Main Auditorium
Capacity:
Theatre-style seating: 667
Theatre-style seating, with Orchestra Pit: 617
'In-The-Round', with seating on 3 sides: 479
Fashion Show, with catwalk: 587
Standing, flat floor: 400
Banqueting, flat floor: 150-200
The Royal Spa Centre main auditorium is a professional, versatile theatre space with a proscenium stage. The seating can be configured in a range of formats, including raked (theatre-style) or flat-floor. It is fully equipped with professional lighting, sound and AV equipment. We have a fly tower, which enables us to fly lighting, scenery and backcloths on stage. We also have an orchestra pit which is able to accommodate up to 20 musicians.
There is a backstage dressing room capacity of 100 (plus space for an additional 100 front of house, if required) and an on-stage capacity of 50.
We are able to offer a wide range of technical equipment, which our skilled team of Technicians are able to operate for you or provide for your personnel to use. Full catering and bar facilities are also available.
The Auditorium from the stage. Theatre-style: 667 seats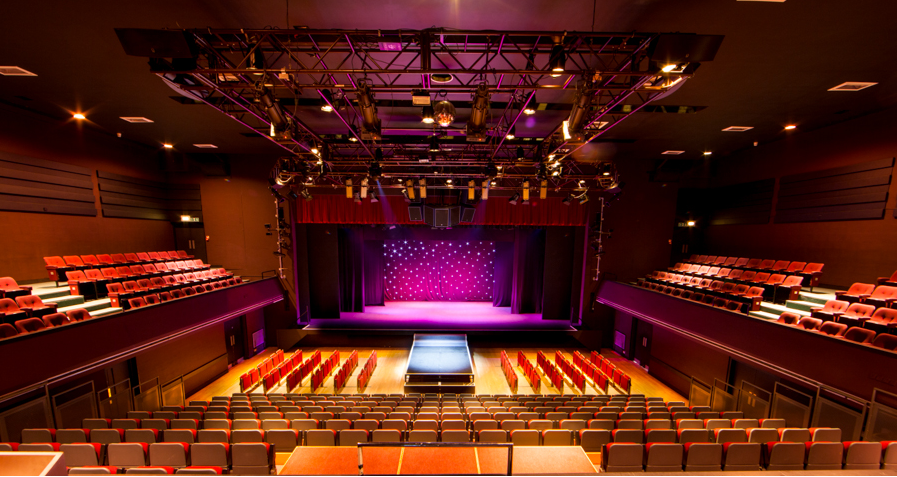 Stage and Stalls seating from Balcony. Fashion Show: 587
The Balcony Bar & Exhibition Space
Capacity: Informal seating: 20-50
Our Balcony foyer area provides valuable space for local artists and photographers to display their work. Bars, catering and refreshments are available. Full AV support available.