Pantomime 2021: Aladdin

Opening weekend
For the best value tickets (and to be the first to see it!) opening weekend is where it's at.
There are 4 performances to choose from:
All tickets are £16.50, a saving of £3 compared to tickets for "Standard" performances and a £4.50 saving compared to "Premium" performances.
There is nothing different about these performances - you just get more bang for your buck!
Better yet, group discounts are applicable on opening weekend too, giving you an even greater saving if you book in a group of 10 or more.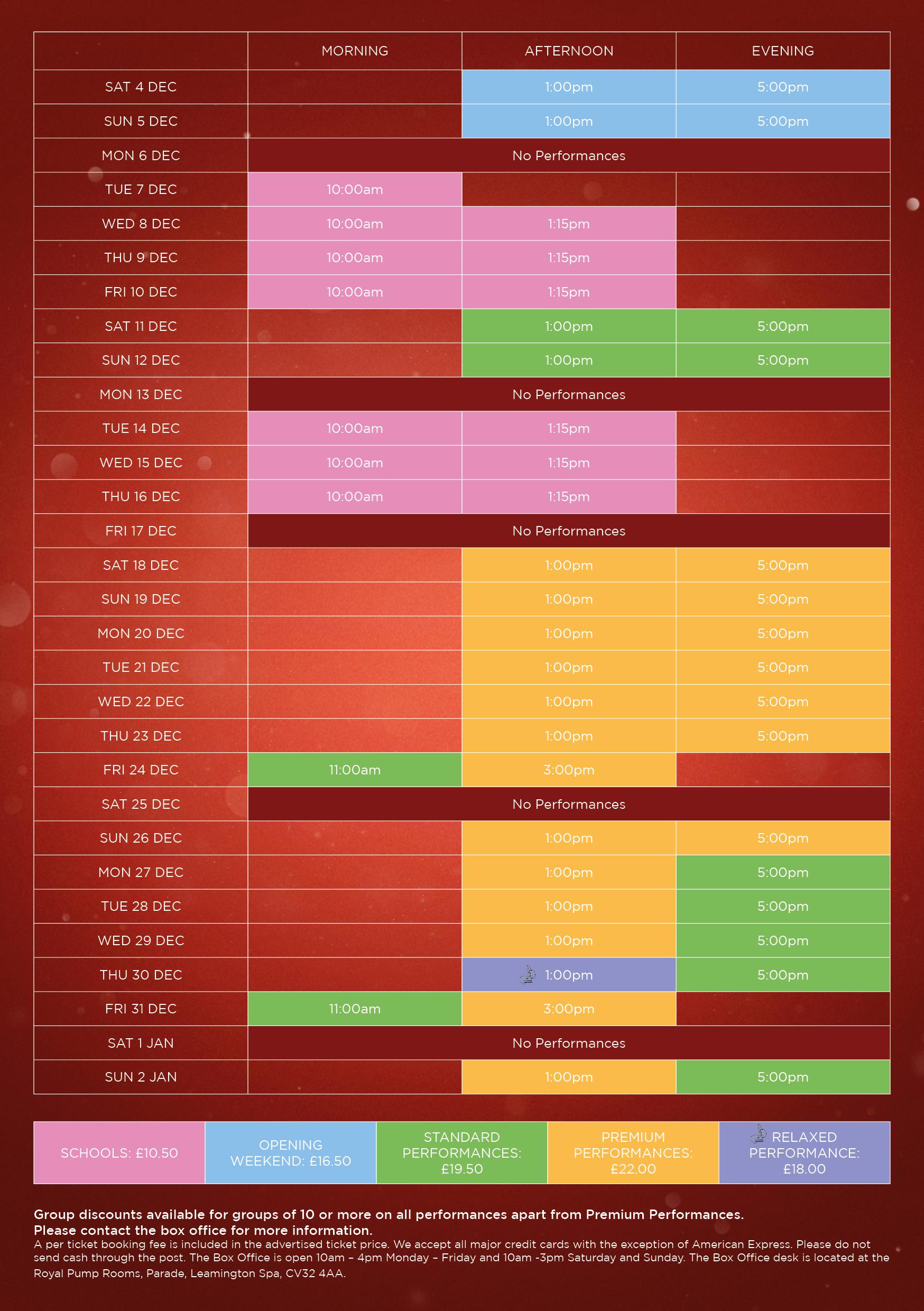 Group Booking information
Booking for a group of you to come and enjoy the pantomime together can save you money!
Group sizes start at 10 people; just getting a few families to book together is enough to achieve a discount.
10 - 24 = 7.5%
25 - 49 = 10%
50 - 99 = 15%
100 - 248 = 20%
249+ = 25%
The discount is only applicable to Opening Weekend and Standard performances.
To book group tickets, you can either:
Call our Box Office on 01926 334418 10am - 3pm Monday - Sunday (recommended for larger groups)

Book online

, selecting the relevant discount bracket from the drop down menu when choosing your seats
School performances
School performances give children a perfect introduction to live theatre, and a trip out to the Royal Spa Centre after a turbulent 18 months is the perfect way to celebrate.
There are 13 performances to choose from between Tuesday 7th and Thursday 16th December. There are 2 shows each day (excluding Monday 13th December) at 10am and 1:15pm.
Coaches can park on Newbold Terrace for drop off and then park at St Nicholas Park in Warwick.
Tickets cost £10.50 and include an icecream. Staff at a ratio of 1:10 can attend for free. More staff are charged at £10.50 per ticket.
To enquire about best availability and to reserve your place for the trip of the year, please call Box Office on 01926 334418, and ask to speak to Rose.
Relaxed and Signed performance
Still the same great show but with fewer loud bangs and pyrotechnics. Tickets cost £18.
There is a BSL interpreter.
This performance is great for those young and old who would prefer watching panto without the 'jumps'!
Audience members are free to come and go as they please and the house lights are kept on, dimly.
We have the performance screened in the foyer too if you're having to take time out of the auditorium.
Our chosen charity
We are currently looking to invite a charity to fundraise for the duration of the pantomime run.
The charity needs to have the man power to have a presence at every pantomime performance to maximise fundraising potential. We also ask that you speak to cast and crew at the start of the rehearsal period so that they fully understand the charity's mission and purpose, as well as speaking for a few minutes to the invited audience at the final dress rehearsal. Ideally, the charity would be local and directly helping people in Warwick District and/or Warwickshire.
If you would like to be considered for our chosen charity, please get in touch
Covid-19 Guidance
Please click here to view how the Royal Spa Centre is keeping you safe throughout your visit.
What is happening to my booking from last year?
Please see the list of new dates for 2021 below. If you are satisfied with your rescheduled date there is no need for you to do anything more. Our Box Office team have already transferred your booking to the equivalent date next year. All you have to do is keep your original tickets as these will remain valid – the performance time and seats will stay the same.
Original Booking 2020/21
Your New Date 2021/22

Saturday 5th December 1pm

Saturday 4th December 1pm
Saturday 5th December 5pm
Saturday 4th December 5pm
Sunday 6th December 1pm
Sunday 5th December 1pm
Sunday 6th December 5pm
Sunday 5th December 5pm
Saturday 12th December 1pm
Saturday 11th December 1pm
Saturday 12th December 5pm
Saturday 11th December 5pm
Sunday 13th December 1pm
Sunday 12th December 1pm
Sunday 13th December 5pm
Sunday 12th December 5pm
Saturday 19th December 1pm
Saturday 18th December 1pm
Saturday 19th December 5pm
Saturday 18th December 5pm
Sunday 20th December 1pm
Sunday 19th December 1pm
Sunday 20th December 5pm
Sunday 19th December 5pm
Monday 21st December 1pm
Monday 20th December 1pm
Monday 21st December 5pm
Monday 20th December 5pm
Tuesday 22nd December 1pm
Tuesday 21st December 1pm
Tuesday 22nd December 5pm
Tuesday 21st December 5pm
No Original Date
Wednesday 22nd December 1pm
No Original Date
Wednesday 22nd December 5pm
Wednesday 23rd December 1pm
Thursday 23rd December 1pm
Wednesday 23rd December 5pm
Thursday 23rd December 5pm
Thursday 24th December 11am
Friday 24th December 11am
Thursday 24th December 3pm
Friday 24th December 3pm
Saturday 26th December 1pm
Sunday 26th December 1pm
Saturday 26th December 5pm
Sunday 26th December 5pm
Sunday 27th December 1pm
Monday 27th December 1pm
Sunday 27th December 5pm
Monday 27th December 5pm
Monday 28th December 1pm
Tuesday 28th December 1pm
Monday 28th December 5pm

Tuesday 28th December 5pm

Tuesday 29th December 1pm
Wednesday 29th December 1pm
Tuesday 29th December 5pm

Wednesday 29th December 5pm

Wednesday 30th December 1pm
Thursday 30th December 1pm
Wednesday 30th December 5pm
Thursday 30th December 5pm
Thursday 31st December 11am
Friday 31st December 11am
Thursday 31st December 3pm
Friday 31st December 3pm

Saturday 2nd January 1pm

Saturday 2nd January 5pm

Sunday 2nd January 1pm

Sunday 2nd January 5pm
Our signed and relaxed performance will take place on Thursday 30th December at 1pm.