Buddy Holly and the Cricketers: 29 Years of Rock 'n' Rolling The World!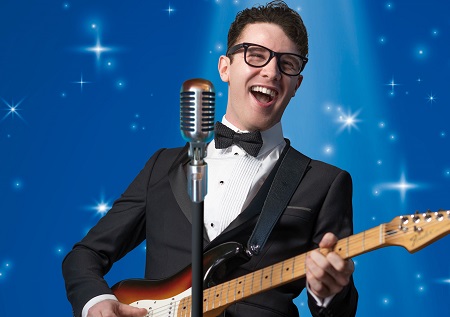 Date: 19th October 2021
Location: Main Stage, Royal Spa Centre
Time: 19:30 - 21:50
Buddy Holly and The Cricketers in The Summer Hollyday Special Featuring special guests ~ The Crickettes
Rescheduled from 1st July 2021 to 19th October 2021
This event is now taking place on a new date. If you had bought tickets for the original date, you will shortly receive an email informing you of the new details. Please retain your original ticket as this will be valid for the new date.
If you had purchased a ticket for the original date and now are unable to attend the new date, we can process a refund for you.
If you need a refund, please respond to the email that was sent by us with your name, contact number and ticket details, and we will make sure to call you and process the refund as soon as possible.
29 Years of Rock 'n' Rolling The World!
2021
This breathtaking show has rock 'n' rolled audiences across the globe from Cardiff to California, Barking to Bangkok and Swindon to Sweden and is guaranteed to have everyone singing along to the music and dancing in the aisles.
It stars some of the finest actor-musicians in the UK whose combined West End credits include Buddy, Lennon, Forbidden Planet and Jailhouse Rock and was endorsed as Britain's most popular Buddy Holly act when the boys guested on BBC One's Saturday night live programme, "The One and Only", hosted by Graham Norton.
The show rarely pauses for breath and is, quite simply, the most compelling concert of its kind. The hits just keep on coming - That'll Be The Day, Peggy Sue, Heartbeat, It Doesn't Matter Anymore, Raining In My Heart, Oh Boy! – and much, much more.
Whatever the season, whatever the excuse to party, make your Heartbeat a little faster with the show that has thousands of fans the world over saying: "I can't believe it's not Buddy!"
Reviews
"The audience were dancing in the aisles and roaring for more" The Stage
"Buddy brilliant!" Graham Norton, BBC One
"Fantastic...The best... tremendous night out...I can't praise the show enough" The Kent and Sussex Courier
"Christmas just wouldn't be Christmas without Buddy Holly and The Cricketers" Somerset County Gazette

Cost: £22
More events