Julian Clary - Born to Mince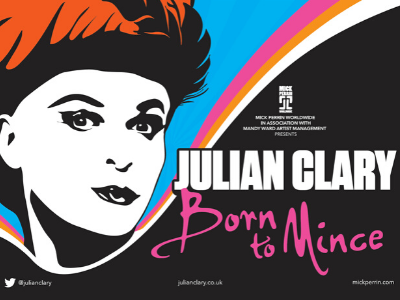 Date: 1st April 2022
Location: Main Stage, Royal Spa Centre
Time: 19:30
Julian Clary presents "Born to Mince"
This event is now taking place on a new date. If you had bought tickets for the original date, you will shortly receive an email informing you of the new details. Please retain your original ticket as this will be valid for the new date.
If you had purchased a ticket for the original date and now are unable to attend the new date, we can process a refund for you.
If you need a refund, please respond to the email that was sent by us with your name, contact number and ticket details, and we will make sure to call you and process the refund as soon as possible.
--------------------------------------------------------------------------------------------------------------
'Are you ready for some filth? I know I am. Time once again for me to sally forth and pleasure the provinces with my particular brand of saucy innuendo. Let me at them!'
In this outrageously camp show, (that he was going to call Bed Knobs and Knee Pads but was advised might not sell too well in Harrogate), renowned homosexual Julian Clary will bare his soul as never before in the interests of light entertainment.
He'll murder some well known songs along the way, no doubt, read you a sneak preview from his next memoir A Night At the Lubricant and make withering remarks about punters foolish enough to sit in the front row. You know the kind of thing. It's the only life he knows. Don't miss out.
This might well be the final mince… "Julian Clary unleashes a tsunami of smut" – The Guardian 'The master of camp comedy ….. mixing the expected with the spontaneous, he is pure entertainment.' The Times
Recommended 16 years +

Cost: Conc: £24 Full: £26
More events