Exhibitions
Drawn from Life: People on Paper
7 July - 17 September 2017
The Arts Council Collection touring exhibition Drawn from Life: People on Paper will come to us this summer. The show brings together work by some of the biggest names in 20th and 21st century British art, including David Hockney, Henry Moore, Barbara Hepworth and LS Lowry.
Part of a national tour to celebrate the Arts Council's 70th Anniversary, the exhibition includes some of the finest drawings of its collection. Works cover the last 100 years and although there are some surprising similarities through the decades, there is also a huge diversity in the approaches and techniques used.
Early twentieth century works include pieces by Gwen John and the intricate patterns of Harold Gilman, mid-twentieth-century artists include George Fullard and John Golding and the exhibition is brought up to date with the imaginary figures of Charles Avery and Mimei Thompson.
The majority of works in the exhibition are drawn from observation, though some are from memory or imagination. Some are unfinished studies while others are finished works in their own right. The exhibition also includes work created early on in artists' careers such as a self portrait by Richard Hamilton from 1938, Mrs Ash Asleep by Howard Hodgkin from 1952 and Peter Blake's Portrait of a Man from 1950.
Works from the Arts Council Collection will be complemented by a number of loans from the British Council Collection.
Arts Council Collection is managed by Southbank Centre, London, on behalf of Arts Council England.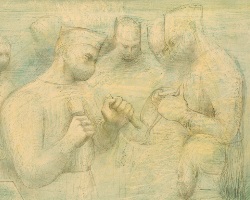 Barbara Hepworth, Reconstruction, 1947. Arts Council Collection, Southbank Centre, London. (c) Bowness, Hepworth Estate