Exhibitions
Unlocked! Behind the Scenes at the Art Gallery & Museum
Our new exhibition, Unlocked! will shine a spotlight on objects and artworks in Leamington Spa Art Gallery & Museum's wide ranging collection. See items that are rarely displayed and others that are undergoing conservation work. Discover our most dangerous object, and view the oldest alongside the newest, the smallest and the heaviest items.
Find out more about what goes on behind the scenes, how we plan for disasters and tackle the pests that like to eat our artefacts. Learn the fascinating stories behind the objects on display and see the hidden sketch on the reverse of L.S. Lowry's The Mission Room. Visitors can curate their own displays and even see themselves inside some of our artwork!
This interactive exhibition is suitable for the whole family.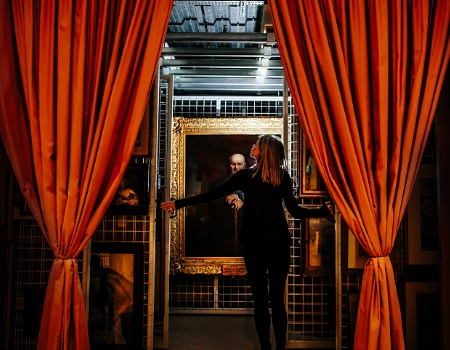 Coming soon...
Are You In This? Leamington Spa In The Great War
28 July - 11 November 2018
This exhibition will mark the centenary of the end of the First World War, and tell the story of Leamington Spa and its people during the conflict. It will look at the experiences of local women and men who served in the war, from fighting at the front to caring for the wounded.
Read our blog to hear stories from the Great War
Amy Sharrocks
30 November 2018 - 24 February 2019
The first major survey of the work of sculptor, filmmaker and live artist Amy Sharrocks, showing works from over a decade of making, collecting and conversations.
This exhibition brings together a significant body of artworks exploring the elusive qualities of live art, tracing moments that slip through our fingers like water, unfolding around the building and stretching out across Leamington Spa.