Exhibitions
The Benevolent Despot - Alderman Alfred Holt (1858-1943) and the foundation of Leamington Art Gallery
29 September 2017 - 7 January 2018
Alderman Alfred Holt (1858 – 1943) became a leading figure in Royal Leamington Spa after he settled in the town in the late nineteenth century. Strong minded and independently wealthy, he 'played the part of a benevolent despot for half a century'. He first became involved in the local sporting scene, helping found the Leamington Cricket Club, becoming president of the Leamington Golf Club, and riding with the local hunt. After he was elected to the Town Council in 1906 he dominated local public life, becoming mayor seven times, an alderman and an honorary freeman of the borough.
While a member of the council he promoted a number of improvements to Leamington Spa. These included the installation of two fountains in the ornamental lake and construction of the New Bandstand in Jephson Gardens, building an Art Gallery extension to the Public Library on Avenue Road, and the foundation of the present art collection. The story of his contributions as a 'public-spirited resident' are presented in this exhibition through a selection of the paintings he donated to the Art Gallery, supplemented by photographs and local history objects.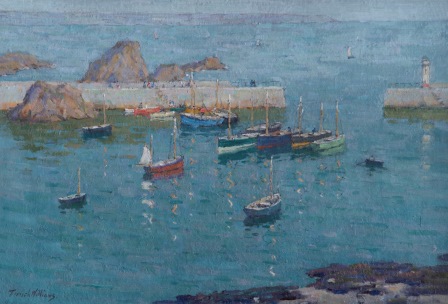 John Terrick Williams, Boats in Harbour, Mevagissey, oil on canvas, 1935-1936
LIGHTS OF LEAMINGTON
19 January – 15 April 2018

In the 1950s a festival called The Lights of Leamington drew 300,000 visitors to the town. Thousands of coloured electric lights turned Jephson Gardens into a wonderland until the last event took place in October 1961.

This eclectic exhibition, selected and curated by Birmingham based artist Stuart Whipps, brings the theme up to date showing the diverse ways light runs through the collection at Leamington Spa Art Gallery & Museum. Lights used during the historic festival will be on display alongside light emitting objects linked to Leamington's history, such as lights used in medical spa treatments, and paintings and photographs depicting or utilising light. The exhibition will also include new work by Whipps which has been created in response to works in the collection.