#humansofleamington

About
#humansofleamington is a series of photographic portraits of people who live and work in Royal Leamington Spa, inspired by the ARTIST ROOM: Diane Arbus exhibition. The portraits, in the style of Arbus' work, unpick and explore the themes of self-identity and self-expression.
To celebrate the launch of the exhibition, we have commissioned, with the support of our young Ambassadors, a series of 30 portraits of local creatives, which will feature online and in and around Leamington Spa's Old Town and Town Centre from late September until 5 December 2019.
You can get involved in #humansofleamington by tagging your own portraits on Instagram and Twitter, and we'll feature them in our exhibition space in the Royal Pump Rooms Foyer.
#humansofleamington is supported by ARTIST ROOMS through Art Fund and Arts Council England.
---
Quick Links
Portraits: #1 Martina and Chris, #2 Flex, #3 Stephanie, #4 Griz, #5 John, #6 Charlotte, #7 Matthew, #8 Paul, #9 Michelle, #10 Reshmi, #11 Jessica, #12 Sarah, #13 Bex, #14 Vieux, #15 Di, #16 Avril, #17 Dan and Healey, #18 Katie-Louise, #19 Kimberley, #20 Tom, #21 Stuart, #22 Stuart, #23 Will, #24 Dave, #25 Bo, #26 Brian, #27 Lydia, #28 Hollie, #29 David, #30 Callum
---
Portraits
#1 Martina and Chris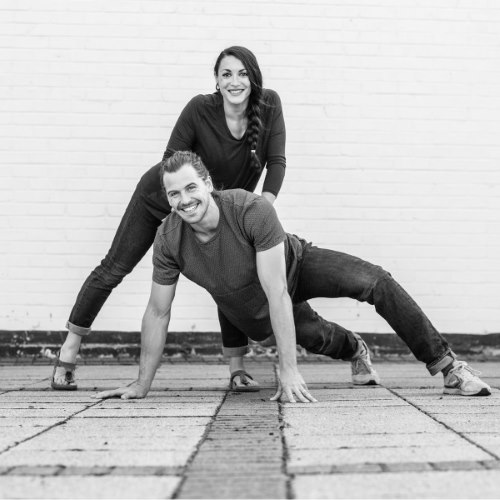 Martina and Chris are the driving force behind CreativeMornings / LeamingtonSpa; a monthly breakfast event for the creative community. The husband and wife duo met whilst performing for Dance Circus company, Motionhouse, who are based in Spencer's Yard. Chris still works with the company, touring nationally and internationally, while Martina hung up her Feiyues earlier this year after a 12-year career as a dancer. She now works as a Creative Coach, Arts Producer and Yoga Teacher. This year sees them adding a third acrobat to their family.
#2 Flex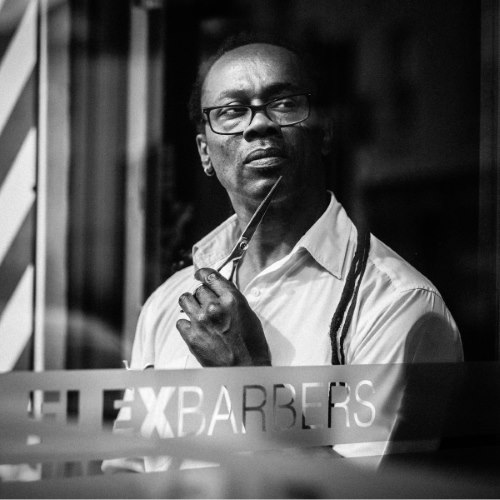 Flex is a barber with a shop on Regent Place. He's also a retired MC and spends his time helping others in the community.
#3 Stephanie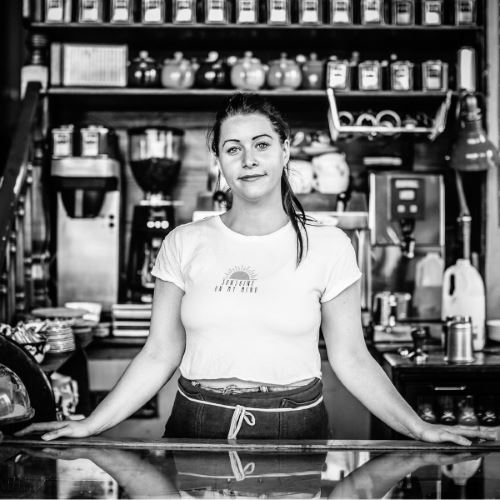 Stephanie, originally from County Durham, works at Temperance on Bath Street. Stephanie has always been creative and believes that creativity is a way of communicating or actualising an idea from your mind to someone else's. Her creative energy is now being channelled in to Serenity Smoothies, a new business that promotes health and wellbeing.
#4 Griz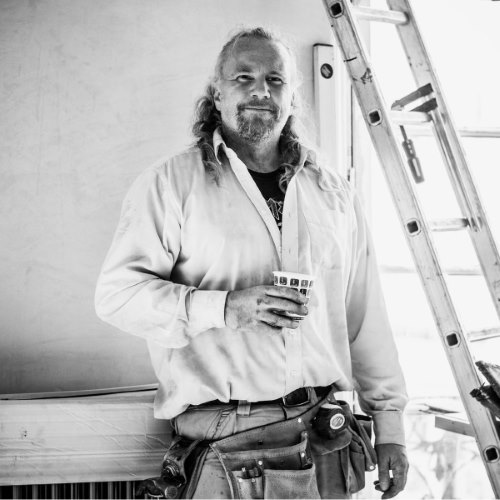 Griz is a local builder who is currently restoring a Regency property in Leamington's Old Town.
#5 John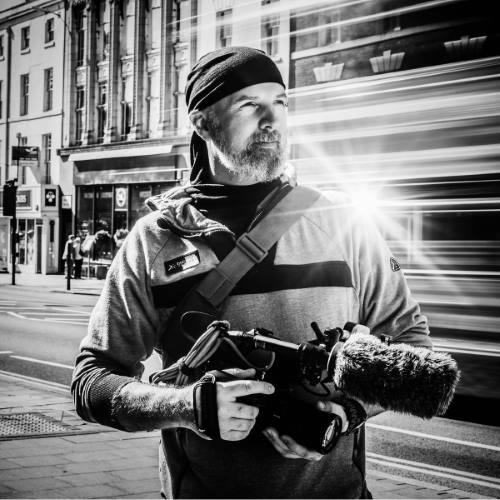 John is a commercial cinematographer and spendsand spends his spare time honing his craft, covering local events and filming human interest to share on social media. He believes that by shining a light on personal stories we lessen the divisions between us (also, sometimes it's just fun to attach a camera to an arrow and see what happens). You can find John on Instagram @jodaphonic or www.blackfirefilms.com
#6 Charlotte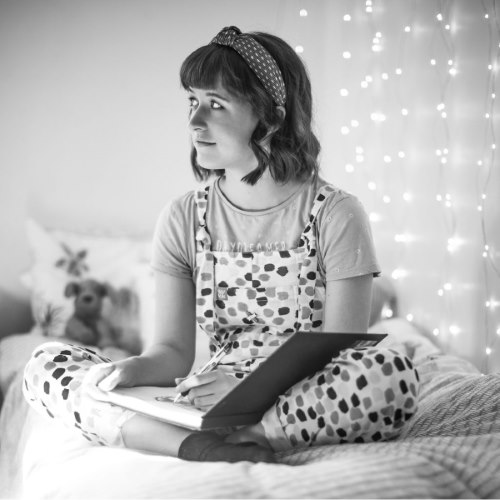 Charlotte is a young illustrator, currently studying Foundation Art and Design at Warwickshire College. Charlotte has been selling her work since she was 15, starting with pet portraits and now expanding to include personalised illustrations, children's book illustrations, and tattoo designs. Her particular interest is finding a way to communicate mental illness through illustration, and she is currently illustrating her own book about her experiences. www.charlottecreeart.co.uk
#7 Matthew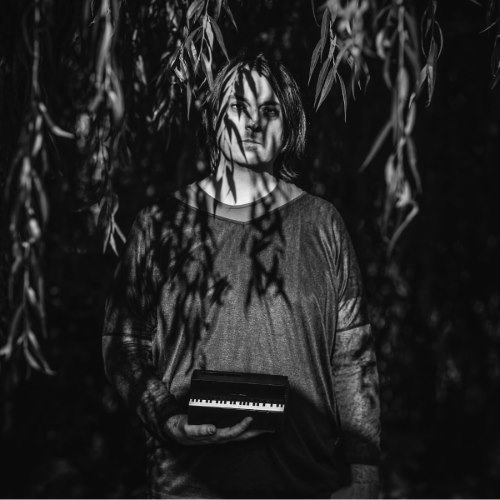 Matthew has worked in charity retail in Leamington Spa since 2013. When he's not at work, he produces music, writes songs and sings. He is inspired by the nature and countryside of Leamington Spa and the surrounding villages, and enjoys making soundscapes, sampling beats from found sounds and from musically experimenting. He hopes to release his self-funded album (as yet untitled) next year under the recording name "MrLabeless". Find out more by contacting rlabeless@gmail.com.
#8 Paul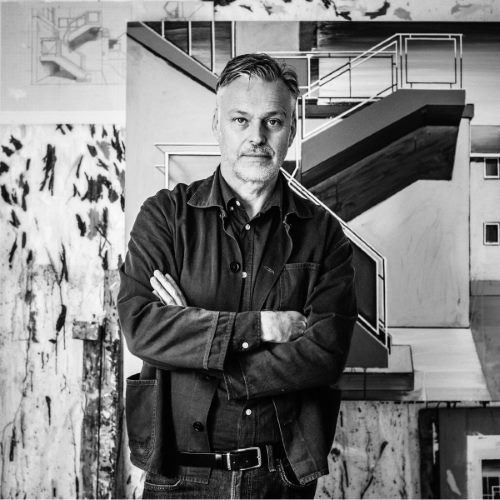 Working as a fine artist, Paul focuses his practice on painting. He makes work with an emphasis on strong architectural shapes and uses an extensive range of vivid colour. They often depict urban, modernist spaces that seem removed from a familiar reality and appear strangely artificial. The paintings occupy the awkward territory between abstraction and representation. The intention is that the paintings surpass mere objective documentation of a place and delve into what may be revealed during the painting process itself. An analytical and speculative approach allows for some surprising possibilities to emerge and be investigated. You can find Paul on Instagram @paulfcrook
#9 Michelle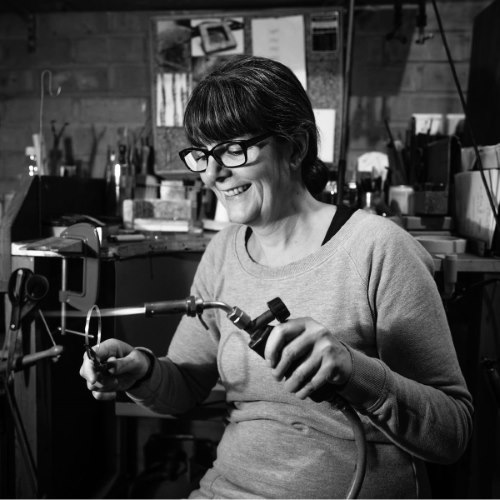 Michelle is a jewellery designer-maker living and working in Leamington Spa. She produces her own collections as well as bespoke commission pieces using precious metals and gemstones. Michelle actively takes part in local, creative events, such as Art in the Park, and is the creator and organiser of Made in Leamington. Michelle is currently setting up her own jewellery workshop with her business partner a fellow jeweller and friend. Find out more about Michelle and her ventures on instagram @michellewood.jewellery and @atthejewellerybench or www.thejewellerybench.uk
#10 Reshmi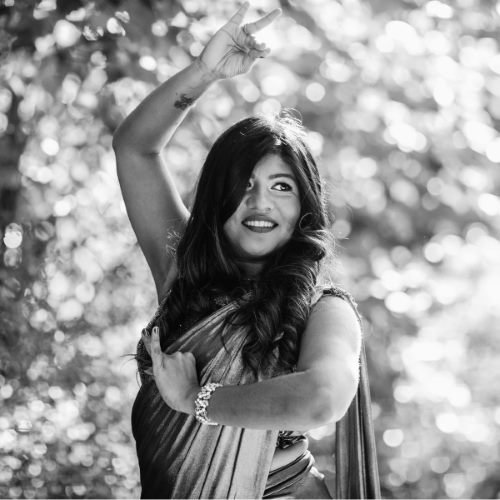 Reshmi is a Bharatanatyam dancer, a traditional Indian art form she has practiced since she was young. She finds that through dance, she is able to express herself emotionally and creatively, and enjoys performing whenever she can. In contrast to her day job in software testing, Reshmi's other passion is sharing her love of fashion and travel and exploration through Instagram. You can follow Reshmi on Instagram by searching reshmi_quayle.
#11 Jessica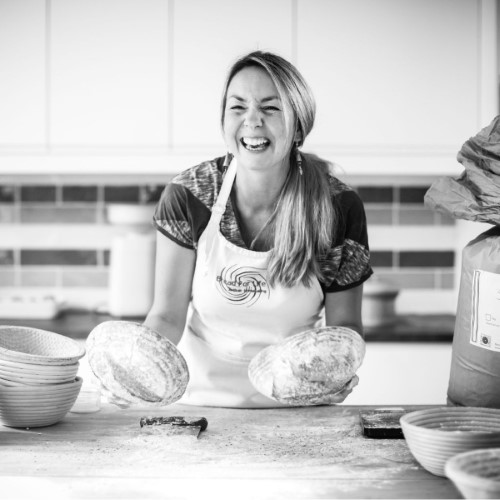 Jessica is a Leamington born and bred, self-taught baker, who began by making and selling handcrafted sourdough and other artisan bread from her home kitchen in Lillington. Now with a successful and thriving business, she now focuses on her popular baking workshop events. Her business supports small local businesses and charity groups, by using locally milled flour and collaborating with local foodies, health food groups, festivals and charities. Find out more at www.breadforlife.org.uk
#12 Sarah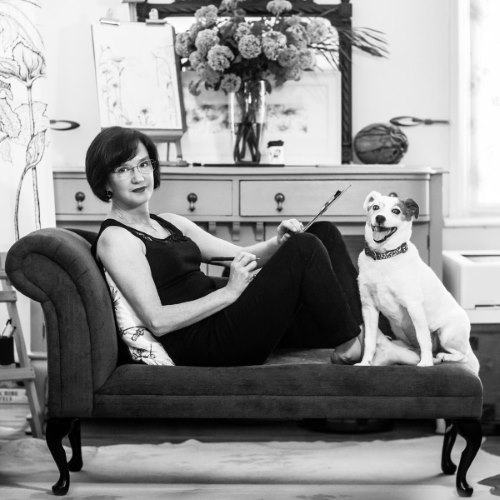 Sarah Horne is a three times Chelsea gold medal winning florist, she runs two businesses in the town. Sarah Horne Flowers which is in its 39th year and Sarah Horne Botanicals a new giftware business featuring Sarah's botanical illustrations. Immersing herself in all things creative her original pen and ink botanical drawings adorn the walls of the flower gallery on Warwick Street. In her search to understand the essence of being human Sarah's hobby is life drawing and even occasionally modelling! Sarah can be found at www.sarahhornebotanicals.com and @sh_botanicals on Instagram.
#13 Bex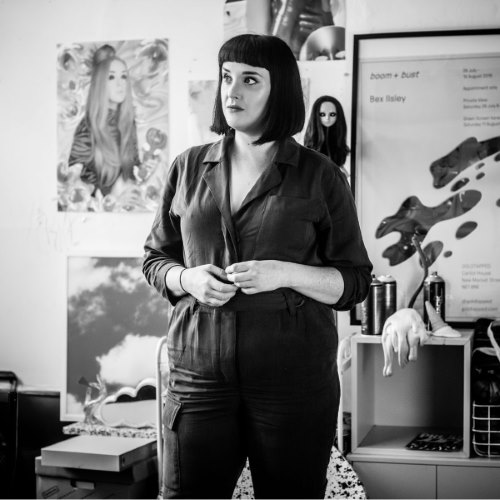 Bex is an artist who lives in Leamington and is currently based at Meter Room studios in Coventry. She considers her artistic practice to be transdisciplinary - spanning video, photography, performance, VR, installation and sculpture. Her work uses fantasy, performativity, objecthood and paradox as lenses through which to examine the authenticity of bodies and personae in online, offline and psychological spaces. Bex's work has reached an international audience and has been acquired into the collections of Miley Cyrus and Wayne Coyne (The Flaming Lips). Instagram: @bexilsley / Website: bexilsley.com
#14 Vieux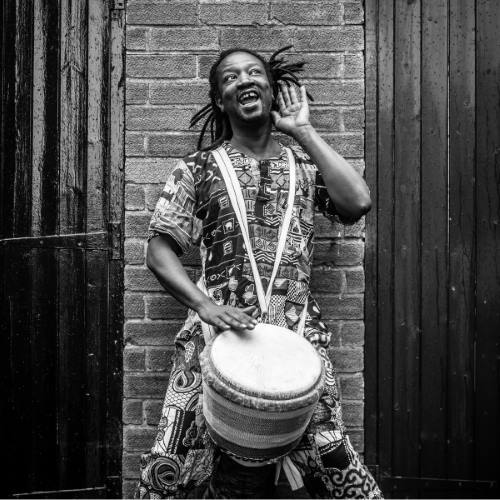 Ansoumana 'Vieux' Bakayoko is a 'djembefola' (djembe player) from Senegal, West Africa. He runs a weekly African Drumming workshop at the Band Factory in Leamington, teaching the art of playing the djembe drum to a traditional African rhythm. He also regularly performs with Leamington's resident Samba band, the Sambassadors of Groove! Vieux works with professional musicians, students and school children, always offering honesty, passion and true creativity to everyone he meets. Search Facebook for Bakayoko Music Company or visit www.vieuxbakayoko.com to find out more.
#15 Di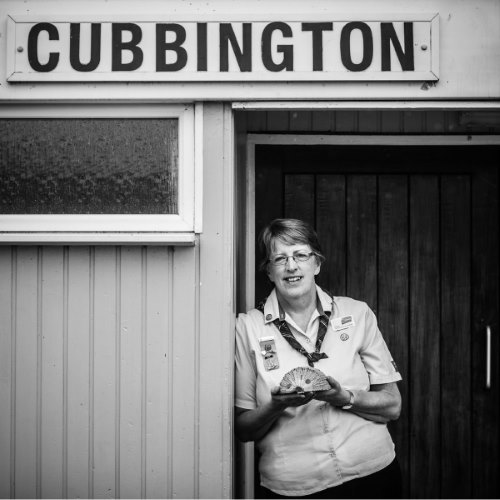 Di has been a volunteer member of Girlguiding Leamington for over 35 years and is a Ranger Leader with Cubbington Rangers. She regularly teaches the girls arts and crafts and encourage them to explore their creative side, as well as learning basic life skills for their future. For her day job, Di is the Diversional Therapist at the Shakespeare Hospice in Stratford, teaching arts and crafts to patients.
#16 Avril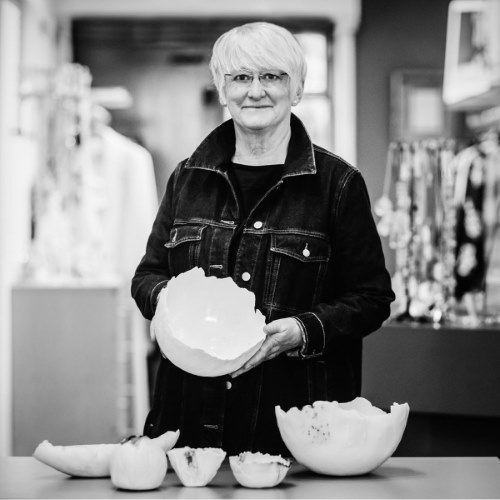 Avril says the Spanish term 'jubilación' is a good word to describe her retirement. She loved her full time career but these times for creating with clay, developing ideas, exhibiting and selling her ceramics...such experiences offer new excitements and challenges. Her young self would not recognise her life today. You can see more of Avril's work on Instagram by searching @avril.leigh
#17 Dan and Healey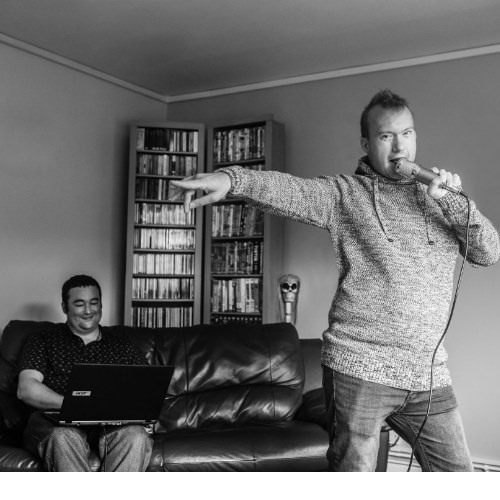 Daniel Browne and Healey Moyes are the creative minds behind the character Sassi Afrika, a drag queen persona portrayed by Healey. As Sassi Afrika, Healey has performed around the UK and internationally, as well as releasing four albums of original songs. Daniel writes and produces all of Sassi Afrika's songs, as well as assisting with choreography for performances. Healey uses his creative platform to highlight LGBT+ rights and issues faced by people with disabilities. He's an active campaigner and his work as Sassi Afrika led to him being named one of the top 10 drag queens in the UK. Daniel is the founder and Chair of the Warwickshire Pride charity, and leads on the process of creating the annual Pride festival in Leamington. He also writes and produces music for other artists and is an artist and performer himself
#18 Katie Louise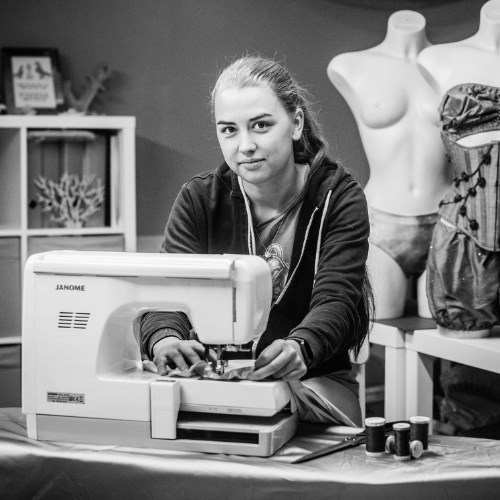 Katie-Louise is a dressmaker and resin artist who lives and works in Leamington. After nine years as a self-employed dressmaker, sewing wedding gowns, corsets and burlesque costumes, Katie took up resin pouring to unwind but it's quickly moved from hobby to obsession and into another business. Her ocean inspired pieces selling out almost as soon as they're listed for sale. You can see some of her resin work at www.instagram.com/mermaidmakeswaves and dressmaking at www.chameleoncouture.co.uk.
#19 Kimberley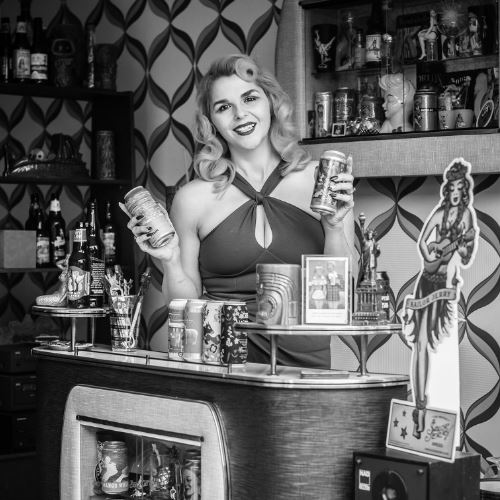 Kimberley is a Content Strategy Manager at Mitchells & Butlers, where she directs social media for a range of national pub and restaurant brands. She is passionate about making craft beer more enticing to a broader range of people and is currently studying to become a beer sommelier. Search @craftbeerpinup to read her blogs on the subject. Kimberley also volunteers as an Event Director for TEDxLeamingtonSpa, and is driven by her belief in TED's ethos of 'ideas worth spreading' - and uses this platform to highlight issues from our community and beyond.
#20 Tom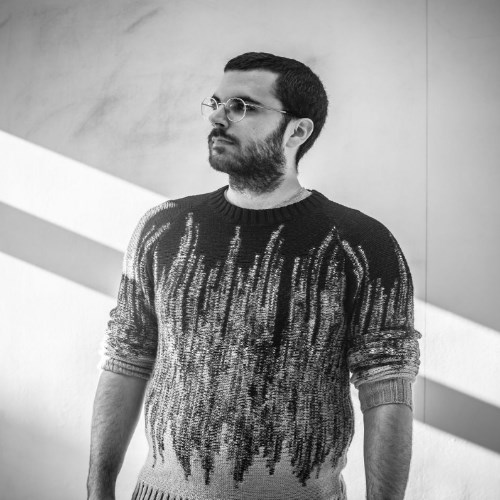 Tom is a game programmer at fish in a bottle and has worked on both 2D and 3D games and a variety of genres. As a hobby, he has worked on making video game engines, new programming languages and also art-related projects including a comic book and digital music project. It is his dream to make game development simpler and faster, so it's easier for someone to express themselves through games. You can find more of what Tom has made on www.darkdimension.org
#21 Stuart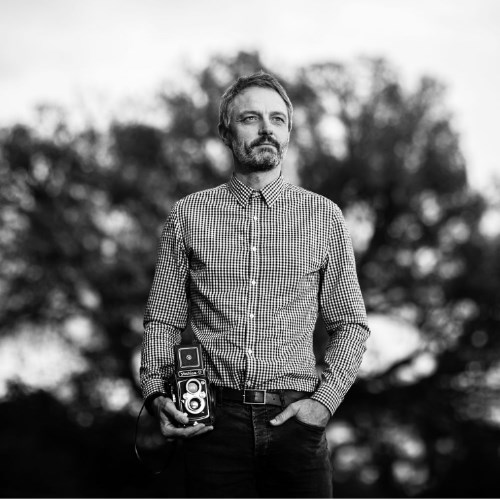 Stuart is a photographer and Lecturer. Working with young people in such a creative industry and seeing their ideas and skills develop as they make their journey through their early careers in photography is something that Stuart thrives on. His own photographic work derives from a documentary photography background. His work concentrates on the themes of social change, identity and human impact. You can find Stuart on instagram @stuartpaulrobinson or www.stuartpaulrobinson.com
#22 Richard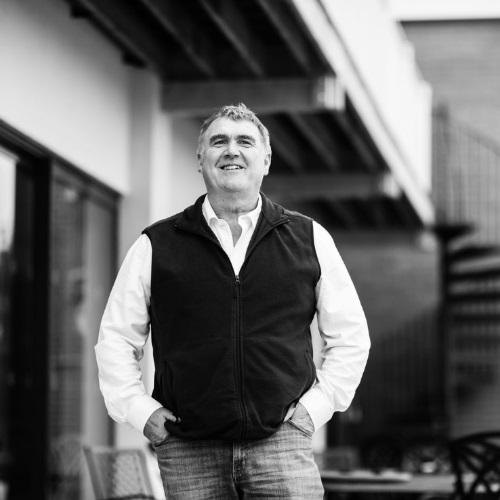 Richard is a local architectural consultant who has worked on buildings in the town for over twenty years, including the recently completed bar extension to Leamington Tennis Club and currently the refurbishment of the Victoria Colonnade.
#23 Will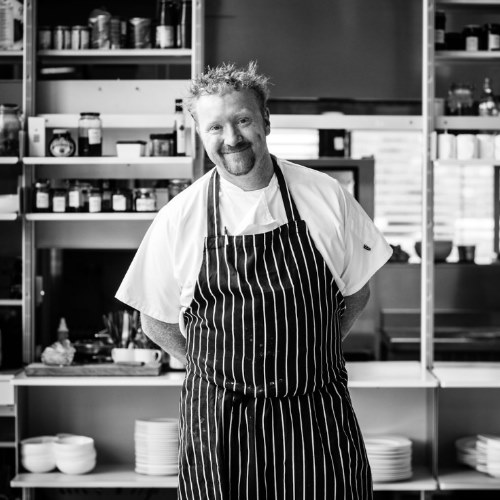 Will is a Cov kid born and bred. After the best part of two decades in some pretty good restaurants in London he moved back to Coventry to raise his family. As the chef at Vitsoe he gets the opportunity to continue his favourite thing - cooking for people - and balance that with family life with his wife and two kids. Cooking is craft, creativity is utilising that craft: the intimate knowledge of the seasonality of produce; listening to the ingredients - letting them sing, instinctively knowing the grammar of cuisine, relaxing with cookery and thoroughly enjoying the process.
#24 David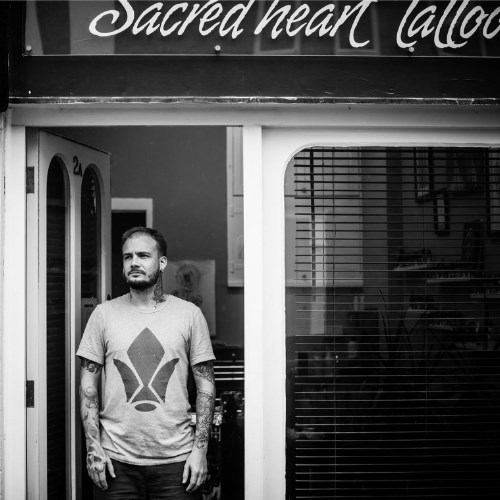 David has been drawing and painting for as long as he can remember. He enjoys producing realistic and illustrative pieces in the form of tattoos, drawings and paintings. He feels honoured that people choose to wear his work on their bodies. David tattoos from his studio, Sacred Heart Tattoos, on Park Street. You can see David's work on Instagram by searching @d_carson or at www.sacredhearttattoos.co.uk
#25 Bo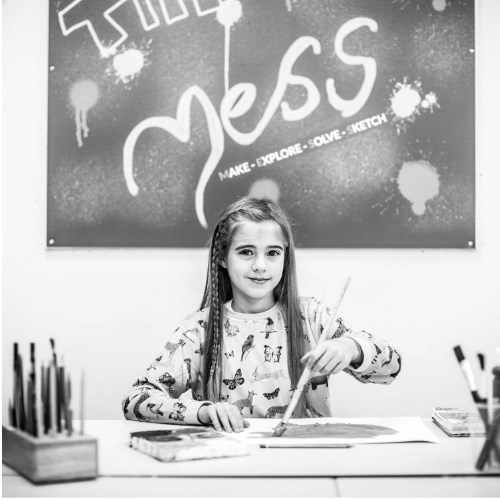 Bo loves painting, especially using colours to splatter a random effect! Her family are all creative too. Her brother won a school competition to design a logo for their dedicated art space, the 'Mess'. Bo has developed her skills at Clapham Terrace School, through weekly art and design technology classes. Bo is also on the school's Art Committee and hopes to join the SPLAT! Festival Management Group to help plan the next community based festival in Jephson Gardens.
#26 Brian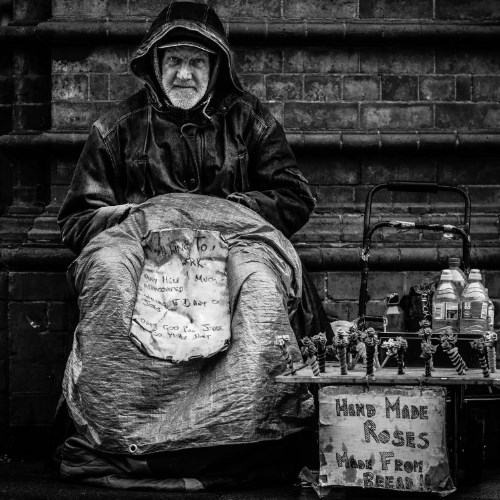 Brian creates beautiful ornamental flowers from bread. He has been selling them on the Parade for the past two years.
#27 Lydia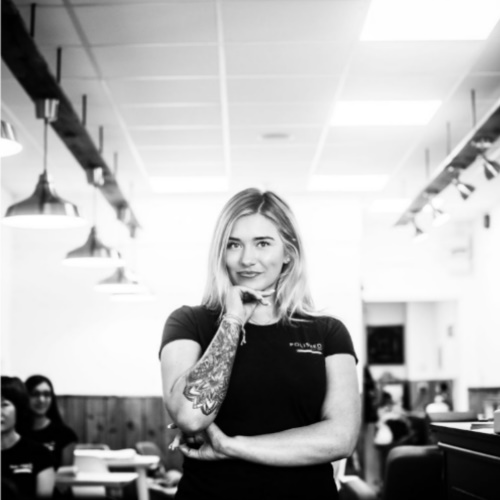 Lydia is a Beauty Therapist specialising in nail enhancements and eyelash extensions at Polished Nail Bar on Regent Street. Born and raised in Warwickshire Lydia began practicing nails whilst at school and before she knew it she had enrolled at Warwickshire College to study beauty and is now a professional nail and lash artist. Lydia is always in high demand with a full diary due to her bubbly and chatty personality, which is essential when in close proximity to customers and of course it's also due to her stunning nail artistry in gel and acrylic. She is passionate about her work and believes that in order to continue her art she must keep training, and next year will see her enter national competitions for the first time.
#28 Hollia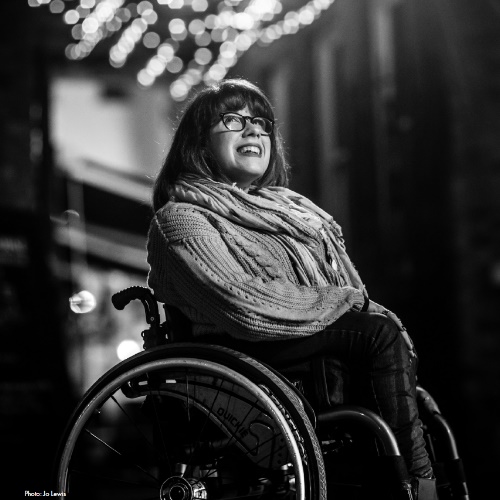 Hollie is a familiar and friendly face to anyone who shops in Tescos on the Parade, where she has worked on the checkout for seven years. Working in retail
and a keen socialite, she champions stores and venues who considers her wheelchair use as part of the customer journey. She's passionate about nail art and is
always experimenting with new and unusual styles, so next time you are in Tescos, check out her nails.
#29 David G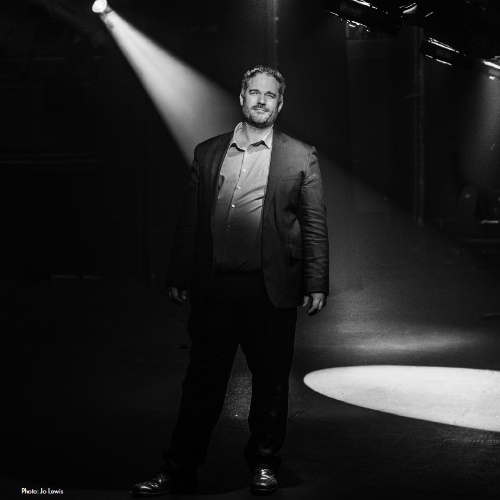 David manages three of Warwick District Council's cultural venues, including the Royal Spa Centre and Leamington Town Hall, which welcome over 500,000
people through their doors every year. David's role is to inspire residents and visitors to the area by creating opportunities for them to participate in or attend
arts activities. David's undergraduate degree was in Drama and his Master's was in Cultural Management. Before becoming an Arts Manager he worked as
an actor.
#30 Callum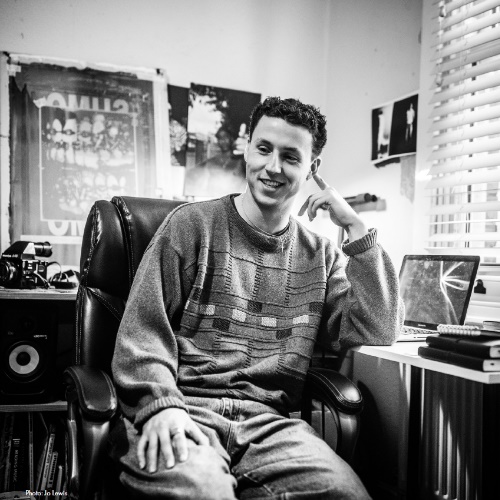 Callum is a clothing designer and photographer. For the past few years he has been growing his own brand, selling to people all over the UK. Callum hopes to
study fashion at University after completing his Foundation at Warwickshire College. You can find out more at sumosportswear.bigcartel.com/
---
Map
Portraits were on display around Leamington town centre from Thursday 10 October until Thu 4 December 2019. We hope to present them again in 2020.
---
FAQs
1. How is #humansofleamington funded?
#humansofleamington is supported by ARTIST ROOMS through Art Fund and Arts Council England.
2. How did you select the 30 people who feature in the official portraits?
We put a call out via our social media channels for people to register their interest in the campaign. We then worked with a panel of young people to explore the notion of 'creativity' and then, with their help, selected 30 people from a range or artforms, disciplines and creative outlets that we thought was representative of the creative scene in the town.
3. Where can I see the portraits?
We will release new portraits over the duration of the ARTIST ROOMS: Diane Arbus exhibition (September – December). You can see them online by searching #humansofleamington on Twitter and Instagram, or see printed version around the town by using our #humansofleamington map.
4. How can I get involved?
You can get involved in #humansofleamington by tagging your own portraits on Instagram and Twitter, and we'll feature them in our exhibition space in the Royal Pump Rooms Foyer. You can also get involved in a programme of free Diane Arbus inspired events at Leamington Spa Art Gallery and Museum's Salon.