Audio Guide

Welcome to Leamington Spa Art Gallery & Museum's audio guide.
Listen to our curators introduce and talk about just some of the pieces of art work in our gallery and artifacts in our collection.
Simply click on the 'Listen to...' buttons to open the audio file. When you have finished listening, click 'back' on your web browser to return to the Audio Guide page.
If you prefer not to stream audio from your device during your visit (mobile data charges may apply), you can download the mp3 in advance. Simply right click the 'Listen to...' buttons and 'save target as'. You can then save this directly to your mobile device and play the audio file via your preferred audio player. Don't forget to bring your own headphones!
This is a pilot project designed in-house by the Gallery team, who continue to explore how to make Leamington Spa Art Gallery and Museum's collection accessible while COVID-19 restrictions are in place. You can find out how it was made here.
Introduction
Hello and welcome to Leamington Spa Art Gallery & Museum, located in The Royal Pump Rooms. This building was designed in the Regency style and erected in 1814 to cater to visitors travelling to Leamington for their health. After the first bath house was built over a natural spring of saline mineral water in Leamington in the late eighteenth century, a thriving spa industry developed in the town and visitors flocked here to 'take the waters' and mix in fashionable society. The Royal Pump Rooms contained a grand Assembly Rooms and boasted 20 baths, making it the largest and most prestigious of all the spa bathing places in Leamington. Over the next two centuries, the function of the Royal Pump Rooms changed but it still retained its connection to healing and water. In 1863, it was refurbished to house a Turkish Bath and Swimming pool and was later redeveloped again to house facilities for hydrotherapy treatments. In 2000, the art gallery and museum moved into the Royal Pump Rooms. The collection still retains a focus on medical art and history, reflecting Leamington's rich past as a popular spa resort.
Terry Frost, Untitled, Maquette for University Hospitals Coventry and Warwickshire NHS Trust, 2003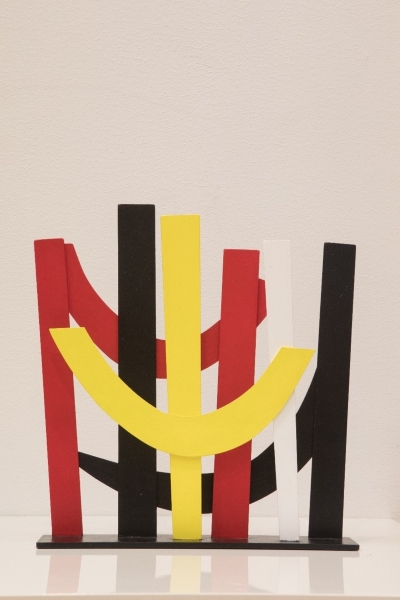 Listen to Terry Frost, Untitled
Although Terry Frost was born in Leamington in 1915, it was actually the landscape and people of Cornwall that predominantly shaped his artistic output. The bright Cornish light and landscape as well as the abstract art produced by a number of artists living there, such as Barbara Hepworth, contributed to the development of his colourful, graphic style.
Frost worked in many mediums throughout his life including painting, print-making and sculpture. This maquette was produced as a three-dimensional sketch for a larger nine-foot sculpture intended for the entrance to the University Hospitals Coventry and Warwickshire but the sculpture was unfortunately never built. His works often included intertwined geometric shapes, particularly semi-circles and arcs, depicted in saturated colours just like those seen in this model. Frost was fascinated by colour, once saying that he knew of at least 87 shades of black. His ultimate aim was to create harmonious abstract art in which form, colour and shape were in perfect balance.
Abraham Bloemaert, The Prodigal Son, 1615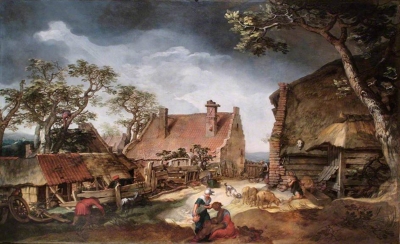 Listen to Abraham Bloemaert, The Prodigal Son
This painting by 17th century Dutch artist Abraham Bloemaert depicts a scene from the parable of The Prodigal Son, a story told by Jesus in the Bible. The prodigal son (prodigal meaning extravagant or wasteful) squanders the inheritance given to him by his father and is forced to return home, penniless and destitute. Rather than shun him, however, his father welcomes him with open arms. It is a story of redemption and forgiveness. Bloemaert masterfully captures these two concepts in one image. Whilst the prodigal son, dressed in rags, kneels in the filth of a pig sty, his hand clutched to his chest in remorse, a beam of heavenly light shines down upon him, indicating God's forgiveness of his sins.
Bloemaert has re-located this biblical scene to his native home of the Netherlands. The prodigal son is depicted on a rural farmyard, surrounded by peasants going about their daily business. In the background a woman feeds her chickens, whilst in the foreground a man bundles some sticks together. Bloemaert makes it easier to relate to the story by setting it in a location that his 17th century audience would recognise. The parable of the Prodigal Son was popular in paintings of this period as it advocated Christian virtues and warned citizens of the prosperous new nation of the Dutch Republic against extravagance.
Henry Tuke, The Critics, 1927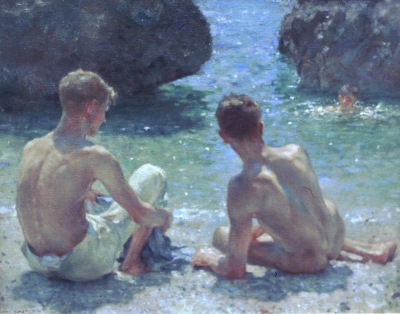 Listen to Henry Tuke, The Critics
Henry Scott Tuke's The Critics depicts three nude or partially clothed young men relaxing on the beach in Cornwall. Working at the turn of the 20th century, Tuke was strongly influenced by the contemporary fashion for painting outdoors, or en pleine air, and the majority of his paintings are bathed in warm, natural Cornish sunshine which delicately lights the flesh of his models and sparkles on the surface of the sea.
Although he also produced portraits and maritime scenes, Tuke is best known for his paintings of nude young men. These works are undeniably sensual and homoerotic although never explicitly sexual. Tuke's circle of friends consisted of a number of artists and writers, such as Oscar Wilde, who celebrated homosexual desire, often drawing on Ancient Greek culture in their work. The classical, statuesque depictions of the male figure in Tuke's paintings shows he was also influenced by the art of Ancient Greece.
At a time when homosexual activities were illegal in Britain, much of Tuke's work explores the idea of hidden desire. His models are often depicted from behind, not touching but intently looking at one another. Tuke plays on the relationship between what the viewer can see and what they can imagine.
Thomas Baker, Lord Leycester Tower, Kenilworth, 1862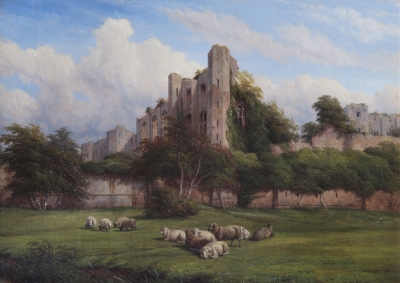 Listen to Thomas Baker, Lord Leycester Tower
During the late 18th and early 19th centuries, landscape painting became increasingly popular in England. Thomas Baker capitalised on this trend by producing over 800 landscape scenes, predominantly of the Warwickshire countryside. His paintings were carefully constructed to appeal to buyers, showing idealised local scenes.
In this painting, Kenilworth Castle, the historic home of Queen Elizabeth's favourite courtier Robert Dudley Earl of Leicester, is depicted as a romantic ruin, overgrown with luscious foliage.
Baker has refrained from showing the often-grey reality of British weather, giving the castle a backdrop of white clouds and blue sky. Baker was highly influenced by the Italianate landscape paintings produced in France and the Netherlands in the 17th century, where artists depicted northern European scenes lit with Mediterranean sunshine.
Bright blue skies, lush green pasture, relaxed farm animals and picturesque ruins were characteristic of Baker's landscapes. The composition of this painting is pleasingly symmetrical; the line of trees divides the painting almost exactly in two, adding to the sense of harmony and peace Baker has depicted.
Mark Titchner, We Want Responsibility To Be Shared By All, 2006
Listen to Mark Titchner, We Want Responsibility To Be Shared By All
This is one of ten posters commissioned in 2003 for Gloucester Road Underground Station in London. The words in this piece come from ten phrases taken from the corporate visions of the world's top ten brands, as they were published in a randomly selected week. By prefacing the statements with 'We Want', Titchner creates his own set of commandments that seem almost revolutionary. The addition of two small words encourages us to buy, not into a new product, but into a new vision of society.
Titchner describes his art as 'a dialogue about how you receive thoughts and ideas' and his work explores the tensions between the different ideologies that underpin society, be they political, social or religious. Titchner collects text from a variety of different sources including song lyrics, philosophical treatises and political manifestos.
The heavily stylised font and background of this work references that of trade union banners emphasising Titchner's exploration of the tensions between capitalism, global corporations and the labour movement.
Titchner is interested in how we are shaped by external influences, particularly advertising, in our everyday lives and he often displays his work outside, on billboards or walls.
Unknown Artist, Portrait of James Bisset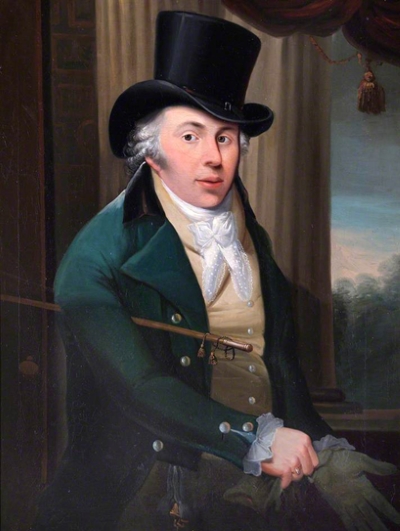 Listen to Portrait of James Bisset
James Bisset, depicted here putting on a pair of gloves, wearing a top hat and holding a cane, looks as if he is about to walk straight out of his own portrait. Whilst these items indicate that he may be preparing to go outside, they also mark Bisset out as a refined and fashionable gentleman in 19th-century society. The signet ring on his right hand, his bright white lace cravat and the pearl buttons on his waistcoat and jacket also indicate Bisset's wealth and status.
Bisset was something of a local celebrity in Leamington after moving here in 1813. He established a museum, picture gallery, library, newsroom and shop in the town. Bisset was one of the keenest advocates for Leamington's attractions and wrote a guidebook celebrating the town's healing waters and spa baths. He punctuated the guidebook with poems such as this one entitled 'Rules for Drinking the Waters':
At early dawn prepare to rise,
And if your health you really prize,
To drink the waters quick repair,
then take a walk to breathe fresh air,
Hie thro fields – or promenade
Round pump rooms grand, or colonnade.
A second glass now take – what then?
Why! Take a pleasant walk again,
The Waters, exercise and air,
Will brace your nerves, your health repair.
Then to your breakfast haste away,
With what keen appetite you may.
Elizabeth Whitehead, Peonies, 1928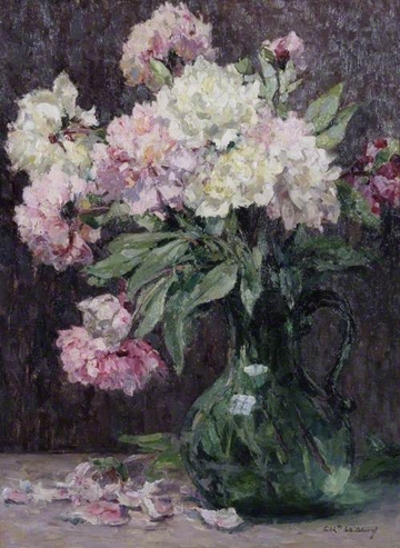 Listen to Elizabeth Whitehead, Peonies
Like many female artists in the late-19th and early 20th centuries, Elizabeth Whitehead was encouraged to specialise in painting still life subjects. Fruit and flowers were considered appropriate, feminine subjects for a woman to paint and could be easily worked on in internal spaces that were perceived of as safe for women. Whitehead became a consummate painter of flowers, of which this is a fantastic example, but also produced some landscape and coastal scenes.
British art schools in this period often barred female students from attending life classes. Whitehead was only able to get a full artistic education when she moved to Paris as a young woman with her brother, the artist Frederick Whitehead, to study art at the Académie Julian. She travelled around France for three years, absorbing art and culture, eventually returning to Leamington to teach painting.
Although flowers may have been a traditional subject to paint, this work by Whitehead is nonetheless brimming with beauty and creativity. The energetic brushwork of the flowers makes it seem as if they have burst into life, scattering petals in an explosion of colour, while the reflections in the green glass vase give it a jewel-like quality.
Copy of a Dutch Defltware Cistern, 1880-1900
Listen to Copy of a Dutch Defltware Cistern
This unusual ceramic object, made in the shape of a house, is a lavabo or water cistern, used for hand washing. The roof, which is decorated with flying angels, can be detached and the square vessel filled with water.
The cistern has been designed to look like a piece of Delftware, a style of ceramics developed in the Netherlands in the 17th century, renowned for its detailed blue decoration on a white background achieved through tin glazing. The domestic scene decorating the side of the cistern features everyday activities, such as smoking and taking tea, which were commonly depicted in visual art from the Netherlands in this period. Delftware was incredibly fashionable across Western Europe due to its similarity to ceramics from East Asia, which were costly and could be difficult to import.
This cistern, however, was probably made in the late 19th century by the French company Samson, Edme and Cie which specialised in reproducing ceramics from museums and private collections. The firm never intended to deceive its audience and endeavoured to mark their works to distinguish them from the originals. This practice was not entirely consistent however, leading to confusion about the authenticity of some objects. A 19th century lavabo which is almost identical to this one can be found in the collection of the Metropolitan Museum of Art in New York.
LS Lowry, The Mission Room, 1937
Listen to LS Lowry, The Mission Room
The industrial landscape, simplified buildings and match-stick figures in this painting are characteristic of LS Lowry's depictions of working-class life in Lancashire in the inter-war years. Although he attended art school in Manchester and Salford, Lowry described himself as self-taught, and he was famed for his deliberately naïve paintings.
It is likely that this work, painted in 1937, is a combination of elements from several different views of Lowry's home in Pendlebury. The roof tops and chimney stacks in this painting appear in other works by Lowry, including in a preparatory study of a town on the back of the canvas of this painting. This study gives us a vital insight into Lowry's artistic practice by showing that he often reworked and revisited some of his favourite views when creating new paintings.
The prominence of the Mission Room in this painting, the equivalent of a modern-day community centre, perhaps indicates Lowry's desire for refuge and sanctuary from his real-life concerns. Throughout the 1930s, Lowry cared for his bed-ridden mother. This placed huge emotional strain on the artist, perhaps contributing to the development of the muted, distant tone of this work. Lowry casts himself as an observer of rather than a participant in the world around him, highlighting his loneliness at this time. 'Had I not been lonely,' Lowry once said, 'none of my works would have happened.'