Exhibitions
only ever almost there - Amy Sharrocks
30 November 2018 - 24 February 2019
The first major survey of the work of sculptor, photographer and live artist Amy Sharrocks, showing works from over a decade of attention, conversations and exchange.
For many years Sharrocks has investigated the architecture of a moment. This exhibition brings together a significant body of her artworks, exploring the elusive qualities of live art, tracing moments that slip through our fingers like water, examining moments of connection between each other and the natural world.
Sharrocks often makes artworks that are ephemeral and intangible, works that only just stand up, that float, fall over, evaporate or are just barely there. Works that depend on you to make them. Exploring this world and virtual worlds through molecules, decibels, photons and bytes, she is pressing for new criteria for care, trying to imagine alternative systems of support, looking for new ways to listen. only ever almost there reflects on the tender possibilities of existence.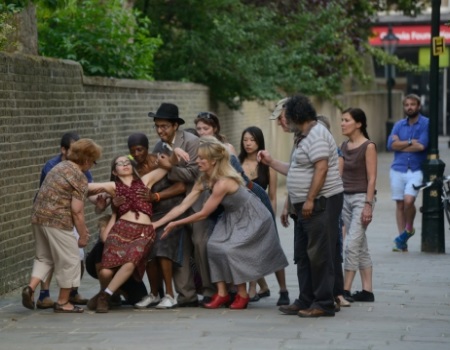 A Time to Fall, Amy Sharrocks, photo by AK Purkiss
Leamington Spa is a landscape famous for water and mineral springs. The Royal Pump Rooms stand at the centre of this original Regency spa town; the Leam wends its way beside the art gallery; the town itself rests on an ancient seabed, a prehistoric ocean that traversed England. For this exhibition Sharrocks explores Leamington Spa as a site of water: new live works will stretch out across the town and sonic artworks will unfold around the building, bringing the river and a whisper of water words inside. She is working with Leamington Spa Museum & Art Gallery to re-hang artworks in the main collection in order to forefront the water marks, drawing out traces of water that are present across the collection but often go unnoticed.
Sharrocks has spent 15 years making artworks exploring water and people, and this exhibition for the first time brings together photographs of her many live works with her own photographs of water. only ever almost there will also gather together previously unseen drawings and prints, a series of works looking at the making of clouds and the movement of air, as well as some of her falling works, exploring risk, daring and shame, the vulnerability of bodies, the liberation of inelegance and the complicity of an act of witness.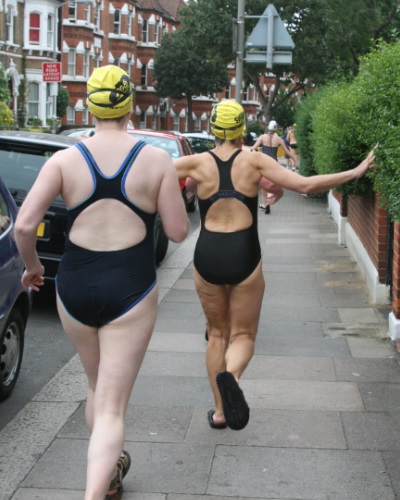 SWIM (2007) by Amy Sharrocks, photo by Ruth Corney
Amy Sharrocks is an artist who invites people to come on journeys in which their own experience, communication and expression are a vital part. Undertaking these journeys with a sense of humour, joy and risk, each work is rich, unpredictable and different every time. She came to national attention with SWIM (2007), which saw 50 people swim across London, and has since gained wider recognition with the award-winning Museum of Water, which has travelled across Britain, Europe and Western Australia, and was nominated for European Museum of the Year 2016. Her work gives careful consideration to the impact we have on each other and the world.
An exhibition catalogue will be available alongside the exhibition which brings together new essays on Sharrocks' work alongside pictures of her artworks over 15 years of making.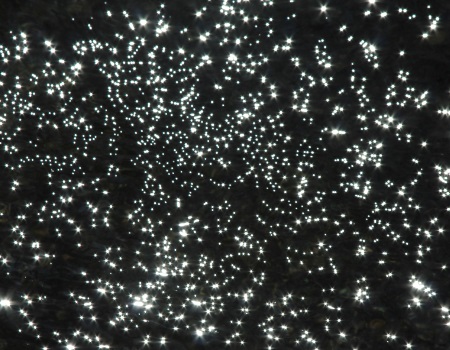 Constellations of Water, Amy Sharrocks, 2017, (detail)

Exhibiting Opportunity for Summer Event 2019
Warwickshire Open Studios (WOS) and Leamington Spa Gallery & Museum are delighted to be working in collaboration to produce four different mini exhibitions (of three to four artists each time), curated by the gallery. These will take place in the foyer space and run for four days each. This event will be selected and we're hoping for a variety of media that will be grouped sympathetically.
How to get involved:
This is the ideal solution for any artists wanting to be involved in the hugely successful Warwickshire Open Studios, but perhaps don't have their own venue or are a little remote. To be involved with this fantastic opportunity you need to complete the attached form and return it to admin@warwickshireopenstudios.org along with three jpg images of your work to assist in the selection process. The cost of being involved with this opportunity is £70 and you must also be a member of WOS which costs £25. The venue will not be charging a commission on any works sold and you must be able to take payment yourself.
Benefits of WOS Membership:
Promote yourself all year round via your individual, easy-to-update profile page
Access all our events (such as the Summer Event and Secret Studio Sale)
Participate in other opportunities only offered to WOS members
Network with like-minded local artists
Support what we do (we're a not-for-profit organization)
Benefits of Leamington Spa Gallery & Museum Opportunity:
Great selling opportunity in a central location at the heart of the WOS region with a number of other venues close by
Passing footfall from visitors to Leamington Spa Gallery & Museum, the library and café
Part of the promotion for the museum and gallery
Listing within the full page advert for the Pump Rooms in the WOS brochure
Doesn't exclude you from being part of another WOS venue
Dates of the exhibitions:
Each mini exhibition is for four days and you will be expected to be present for the whole block, displaying and ideally demonstrating your work. Your work can stay in place throughout the block as the area is protected with shutters when closed. Opening times are from 10am to 4pm.
Block 1 – Sat 15

th

to Tues 18

th

June
Block 2 – Weds 19

th

to Sat 22

nd

June
Block 3 – Sun 23

rd

to Weds 26

th

June
Block 4 – Thurs 27

th

to Sun 30

th

June