Exhibitions
Medicate 2015
23 October 2015 – 17 January 2016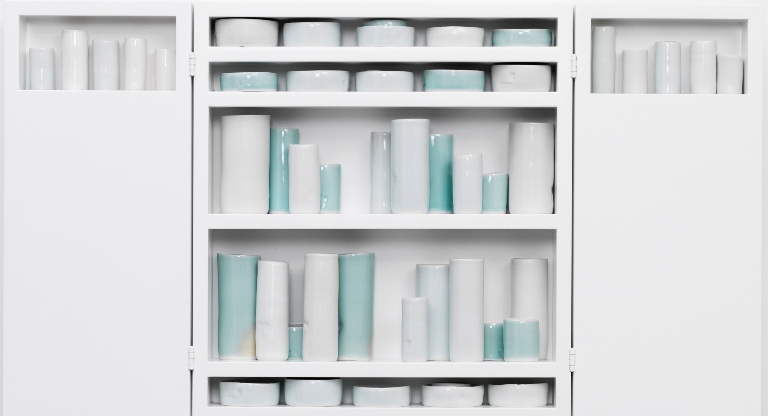 This exhibition will showcase contemporary art collected through the Medicate project and later acquisitions inspired by it.
Between 2000 and 2005 the Art Gallery & Museum developed a collection of contemporary art works which explored the history of the Royal Pump Rooms as a former centre for medical treatments, especially hydrotherapy and physiotherapy. 10 years after the project finished, the Medicate 2015 exhibition will revisit this unique group of artworks, which will be accompanied by more recent acquisitions inspired by the same theme.
The works of art in this collection examine the physical, societal and psychological effects of disease on people as well as the values and practices of medical science. Artists represented in the collection include: Damien Hirst, Christine Borland, Keith Coventy, Jason Oddy, Michelle Charles, Laura Glassar, Tania Kovats, Jordan Baseman, Alexa Wright, Marc Quinn and Lyndall Phelps. Glassar and Wright's work question how our bodily appearance is shaped by illness or disease and how we react to this. Hirst's and Coventry's work can be seen to question how the pharmaceutical and recreational drugs and foods we consume affect us physically.
The Medicate collection was created with the help of the artists and funders: the Wellcome Trust, Arts Council of England, Resource/ V&A Purchase Grant Fund. A panel of consultants advised on the selection of artworks for the collection: Mr Francis Wells, Professor Nick Spencer, Professor Martin Kemp, Anna Harrison, Sandra Percival and Gill Hedley.
Since the Medicate project finished in 2005, Leamington Spa Art Gallery & Museum have continued to collect work with a link to medical science, spas and healing. Works by Edmund de Wall, Lyndall Phelps, Zadok Ben David and Jacqueline Donachie have recently been acquired to expand this area of the collection.