Exhibitions
Exhibitions

Paintings, Prints and Drawings
Tessa Beaver
29 November 2014 – 22 February 2015
Tessa Beaver (1932, London) is a printmaker and painter who has worked continuously as an artist since her graduation from the Slade School of Art in1953. For the past 44 years she has lived and worked in Leamington Spa. Now in her 83rd year Beaver continues to paint, draw, write and pursue artistic research from her long established studio in Leamington's Old Town. Paintings, Prints and Drawings is a new exhibition with works from the mid-1960s to the present day. It includes woodblock prints, copper and steel plate etchings, charcoal and ink drawings, pottery works and oil paintings. Those familiar with Beaver's work will recognize the natural themes of trees, woodlands, plants and seashores as well as the architectural subjects and interiors for which she became known.

Less familiar perhaps are her ambitious abstract etchings, many of which have never been exhibited before.
Sensational Clay
Jon Williams
6 March to 4 May 2015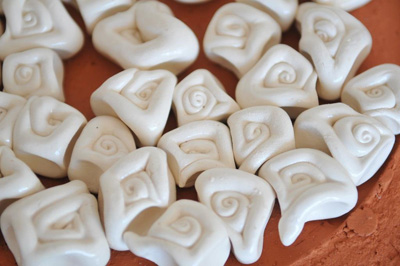 Sensational Clay, a touring exhibition by Bilston Craft Gallery, is a striking exhibition of ceramics by Hereford based maker Jon Williams. Williams' solo show has been touring the UK with thousands of visitors enjoying his work in Wolverhampton, Cirencester, Carlisle, Worcester and then finally opening in 2015 in Royal Leamington Spa.
The exhibition of ceramics has something for the whole family to enjoy. Every item in the exhibition has been inspired by the five senses: touch, taste, sound, smell and sight. From miniature hand-held items to impressive musical pots, each item can be touched and explored to find out more about the materials used to make it.
Visitors will be able to dig into sand pits to discover hidden treasures; explore the tactile, textured wall panels; and play the tuneful pots. All the family will be enticed by the tables full of ceramics inspired by foods and can try to guess the smells coming from the scented objects.
Curator, Alice Swatton, says "We are delighted that Sensational Clay is coming to Leamington Spa Art Gallery & Museum. This is a fun, interactive and charming exhibition that visitors of all ages can appreciate. Why not come along and experience clay objects first hand."
On Friday 6 March, 1-2pm there will be a Friday Focus Extra to mark the opening of the Sensational Clay exhibition. Artist Jon Williams will give an introductory talk about the touring show as well as discussing his creative practice. Free, no need to book.
Sensational Clay will run at Leamington Spa Art Gallery & Museum from 6 March – 4 May 2015.