Exhibitions
Exhibitions
Keep Up
New Work by Jacqueline Donachie

12 September - 16 November 2014
Glasgow-based artist Jacqueline Donachie has a special interest in healthcare and bio-medical research. She graduated from the Glasgow School of Art's influential Environmental Art Department in 1991, and is one of a group of artists who helped establish Glasgow in the 1990s as a dynamic contemporary art centre.
This exhibition will include 'Weight', which Leamington Spa Art Gallery & Museum acquired in 2012 through the Contemporary Art Society's Acquisition Scheme. The installation, which crosses sculpture, drawings and photographs, resonates visually with some of the medical treatments that previously took place in the Royal Pump Rooms. However the original concept of the work was to respond to muscular dystrophy.
Keep Up will also include new works by Donachie and a recently commissioned piece which will respond to the building's previous history as a medical treatment centre.
In My Craft or Sullen Art
Tessa Beaver
29 November 2014 – 22 February 2015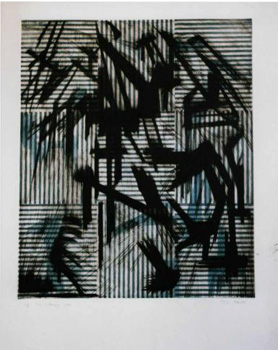 Tessa Beaver (1932, London) is a printmaker and painter who has worked continuously as an artist
since her graduation from the Slade School of Art in1953. For the past 44 years she has lived and worked in Leamington Spa. Now in her 83rd year Beaver continues to paint, draw, write and pursue artistic research from her long established studio in Leamington's Old Town. In My Craft or Sullen Art is a new exhibition with works from the mid-1960s to the present day. It includes woodblock prints, copper and steel plate etchings, charcoal and ink drawings, pottery works and oil paintings. Those familiar with Beaver's work will recognize the natural themes of trees, woodlands, plants and seashores as well as the architectural subjects and interiors for which she became known.

Less familiar perhaps are her ambitious abstract etchings, many of which have never been exhibited before.