Motionhouse: WILD, KNOT and HAPPY HOUR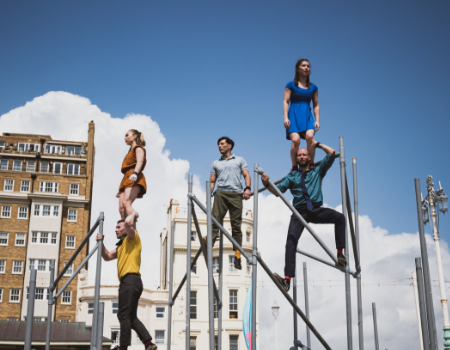 Date: 22nd September 2019
Location: Main Stage, Royal Spa Centre
Time: 15:00 - 17:00
Enjoy a triple bill of Motionhouse performances in an afternoon of entertainment at the Royal Spa Centre.
Timings
2-2:45pm

Family Fun Workshop in the upstairs foyer, led by one of Motionhouse's professional dancers: (limited to 20 people)
Call the box office to reserve your place when purchasing your ticket.

3-3:45pm

Motionhouse duets, KNOT and HAPPY HOUR, are performed in the Stalls Foyer followed by a short performance by Motionhouse Youth.

3.45 – 4pm INTERVAL
4 – 4.45pm

WILD staged in the Main Auditorium, performed by 6 Motionhouse dancers

4.45 – 5pm
What is it to be wild?
WILD, the daring new dance-circus production from Motionhouse, explores our disconnect with the natural environment. In our increasingly urban lives, is the wild still shaping our behaviour?
Performers use powerful physicality and daring feats to move through an intriguing forest of tall poles. From the top of the pole, life in the canopy looks down onto the forest floor - a dangerous world of unknown meetings.
Where do we belong? Do we choose to survive as a lone wolf or engage with the pack and the tribe?
Pre Show Workshop
Fun for all the family! Come and join in a Motionhouse dance workshop. Have fun together as a family and get moving in this relaxed and informal 45 minute session led by one of Motionhouse's professional dancers. No experience required – just enthusiasm! All ages and abilities welcome. Limited spaces available.
This workshop will take place before the performance of WILD from 2pm-2.45pm in the balcony foyer at the Royal Spa Centre. Please call the box office if you wish to reserve a
space when purchasing your ticket - you can call them on 01926 334418.
​​​​​​​

WILD Credits

Commissioned by Gulbenkian & ART31 and Birmingham Hippodrome (as part of the Hippodrome Associate Artist programme). Supported by Without Walls with commissioning from Freedom Festival Arts Trust, Hat Fair, and Out There International Festival of Circus & Street Arts.
With additional backing from the Garfield Weston Foundation, the Foyle Foundation, The 29th May 1961 Charitable Trust and supported by The City of London Corporation.
Cost: £21/ £15 conc.
More events