ENSEMBLE 360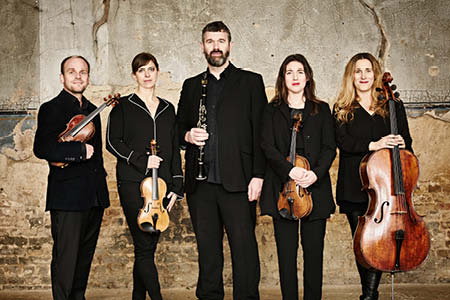 Date: 15th March 2020
Location: Main Stage, Royal Spa Centre
Time: 15:00
Following the Family Concert in the morning, members of Ensemble 360 treat us to an afternoon of Mozart at his most delightful.
The current members of Ensemble 360 are:
Juliette Bausor flute, Matthew Hunt clarinet, Adrian Wilson oboe
Naomi Atherton horn, Amy Harman bassoon
Benjamin Nabarro and Claudia Ajmone-Marsan violins
Ruth Gibson viola, Gemma Rosefield cello
Laurène Durantel double bass and Tim Horton piano
Amadeus 5 x 3
Mozart Horn Quintet in E flat K407
Mozart String Quintet in C K515
Mozart Clarinet Quintet in A K581
"Eleven international musicians, brimming with body and soul with passion, vitality and virtuosity, whose performances never cease to amaze." - The Independent
Concert generously supported by Murray Campbell, John Hobley, Jonathan Holden, Rose Ledlie, Roger Massie, and Margaret Pringle.

Cost: £20 raised central block, £15 at sides £1 Student Standby
More events