CURZON BRASS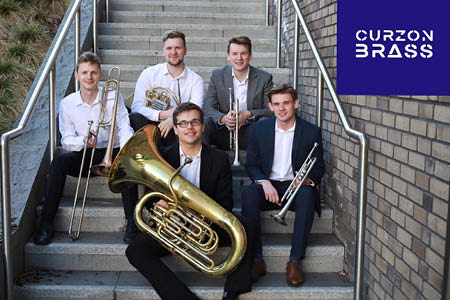 Date: 18th October 2019
Location: Studio, Royal Spa Centre
Time: 19:00
2019 Leamington Music Prize Winner's concert
Jacob Smith and Matthew Tarrant trumpets
Tom Hayes horn
Dan Price trombone
Mark Dilley tuba
Music from seventeenth century Venice to the Jazz Age, with some Bach, Gershwin and Sousa. Enjoy Packing up your Troubles and Putting on the Ritz!
Gabrieli Canzona Per Sonare No 4
JS Bach Nun komm, der Heiden Heiland BWV 659
Simon Lesley Timeout
Liszt Consolations (arr. Mark Dilley)
Ewald Brass Quintet in D flat
Walton Popular Song from 'Façade'
Carmichael Georgia on My Mind
Andrew Downes Suite for Brass Quintet
KC Bird Pack up Your Troubles
Sousa Liberty Bell March
The Quintessential Gershwin (arr. Stephen Bulla)
Berlin Puttin' On the Ritz
The Leamington Music Prize concerts are generously sponsored by Bonhams; this concert is also supported by our Corporate Patrons, The Arts Society Royal Leamington Spa.

Cost: £15 unreserved £1 Student Standby
More events