Armonico Consort: Land of Pope & Glory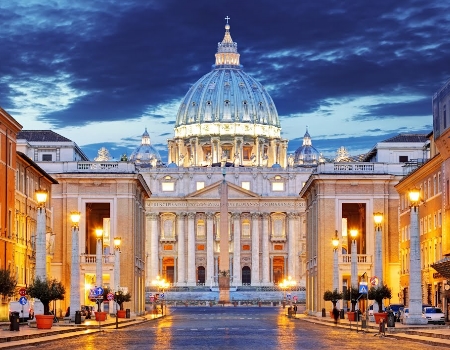 Date: 28th September 2019
Location: St Mary's Church, Warwick, CV34 4RA
A musical evening capturing the enchanted journey through the extraordinary history of the Papacy
Armonico Consort & Baroque Players
The English Cornett & Sackbut Ensemble
Director | Christopher Monks
Narrator | TBC
A musical evening capturing the enchanted journey through the extraordinary history of the Papacy - trekking through tales of greatness and intellect, whilst stumbling upon Papal times
the church would prefer long forgotten. 'The church in Rome and Italy has inspired some of the greatest choral music ever written, be it Allegri's 'Miserere Mei' to Palestrina's epic Masses and the incredible works of Monteverdi. When I heard that Pope Stephen VI posthumously tried his predecessor for multiple offences, going to the extent of having his body exhumed and placed on trial – carrying on to bark interrogation at the deceased, in addition to other stories of greatness and inspiration spread throughout history, I realised that there must be a concert programme in this extraordinary subject!' (Christopher Monks – Artistic Director) Fascinating tales of incredible leadership and faithfulness are balanced with those that are as hilariously absurd as they are shocking!
Featuring groups of choirs and soloists placed around the beautiful setting of St Mary's Church, these incredible tales will be illustrated with music from the greatest Italian church
composers. Armonico Consort, with the help of a guest narrator and the English Cornett and Sackbut Ensemble will guide you through the musical heritage inspired by this great
institution.
Programme includes:
G. Allegri Miserere Mei
G. Gabrieli In Ecclesiis
G. Gabrieli Omnes Gentes à 16
G. Gabrieli Audite Principes à 16
C. Monteverdi Lauda Jerusalem & Magnificat Vespers of 1610
C. Monteverdi Beatus Vir
G. Palestrina Credo & Agnus Dei Missa Papae Marcelli ()
G. Palestrina Tu es Petrus
G. Gabrieli Magnificat à 14
Kindly Sponsored by Tim Coghlan & Braunston Marina

Cost: £34.50, £23.50, £17.50, £13 (U16 Free with Paying Adult; ACChorus buy one get one for £5 (not top price))
More events