Bing Live! Bing Goes to the Theatre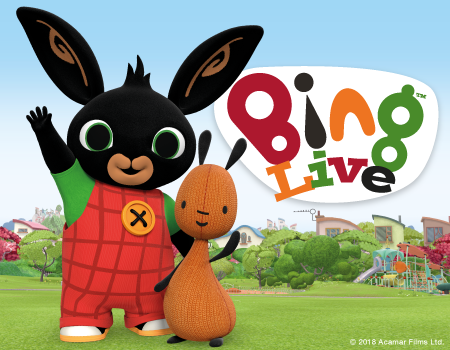 Date: 8th September 2018 - 9th September 2018
Location: Main Stage, Royal Spa Centre
Calling all Bingsters! Bing and his friends are coming to Leamington Spa in the first ever Bing stage show!
8th Sept - 1pm & 4pm
9th Sept 10am & 1pm
Join Bing, Sula, Coco and Pando as they find out how to tell stories by pretending, dressing-up and singing songs. Flop and Amma are there to help, but in this magical world of make-believe things don't always go according to plan...
Don't miss the chance to see your little one's face as their favourite characters are brought to life in this brand-new show. Full of fun, laughter and music, Bing Live! is the perfect first theatre trip for pre-schoolers and their families.
Going to the theatre..it's a Bing thing!
"Watching audiences around the country watching Bing Live has been a wonderful experience. When people are watching something and enjoying it, it's one of the best things imaginable. A little girl behind me stood on her mother's lap the other day singing one of the songs in the show at the top of her lungs without much sense of tune or rhythm, but the look on her face and her mum's face, and her grandpa's, and the gusto with which she joined in… she was just totally loving it without any filter whatsoever! If you could take that home, that joy and energy, and pop it in a drawer so you could take it out whenever things felt a bit blue… well then you'd never have another grey day for the rest of your life". Will Tuckett, Director Bing Live

Cost: £18, £16 Conc.
More events