History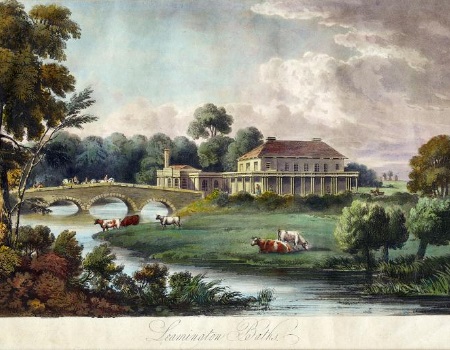 Leamington Baths, 1st of August 1816, ink on paper. This aquatint print of the Royal Pump Rooms in Leamington Spa was published by S. and J. Fuller on 1 August 1816
The Royal Pump Rooms building was opened in 1814, when the small agricultural village of Leamington Priors was fast growing into a major spa resort. Since the 1780s increasing numbers of wealthy visitors had been coming to Leamington to 'take the waters' for their health while mixing with fashionable society. Their needs were met by several spa baths built south of the river Leam, in the area around All Saints' Church, but the Royal Pump Rooms was the first (and as it turned out, only) spa establishment built north of the river. Its Regency assembly room and 20 baths made it the largest and most prestigious of all the spa bathing places in Leamington.
The Royal Pump Rooms' location on the north bank of the Leam was an important step in the development of the newly laid out area which became known as the New Town. This was in contrast with Leamington's historic core south of the river, which began to be referred to as Old Town. Leamington Prior's arrival as a major spa town was recognised when in 1838 Queen Victoria allowed it to adopt the name Royal Leamington Spa.
The fashion for taking health cures at inland spas began to decline after the 1840s and over the next two decades the spa baths in the Old Town all closed. The Royal Pump Rooms, though, was already recognised as a major landmark building so it was refurbished and extended in 1863 to provide a Turkish Bath and swimming pool. Further redevelopments followed, notably the opening in 1890 of another swimming pool, and later the introduction of facilities for physiotherapy treatments.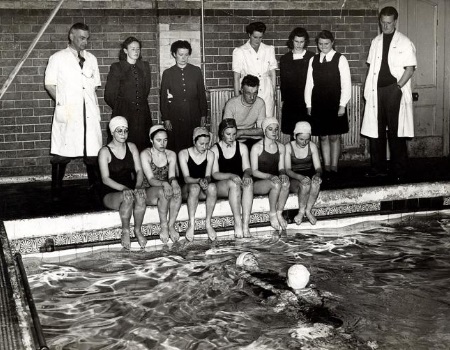 A black and white photograph of the De Normanville swimming pool, Royal Pump Rooms, Leamington Spa.
© Courtesy of the Leamington Spa Courier
In 1990 the public swimming baths were relocated to new premises, once again putting at risk the future of the Royal Pump Rooms. The response was to redevelop the building in 1997 – 99 to create the cultural attraction we know today.