Modern Mercia: Post-war art in Coventry and Warwickshire 1945-1970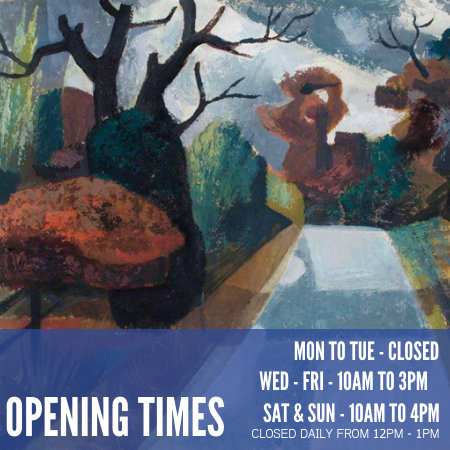 Date: 20th May 2021 - 19th September 2021
Every day
Location: Leamington Spa Art Gallery & Museum
Time: 10:00 - 15:00
The Gallery is open Wednesday to Friday from 10am - 12pm and 1pm - 3pm and on Saturday and Sunday from 10am - 12pm and 1pm - 4pm.
Image: Hugh Richard 'Dick' Hosking's Warwickshire Landscape c. 1965
The exhibition has four key strands. The first covers the commissioning by the city architects, Donald Gibson and Arthur Ling of a wide variety of public art during the rebuilding of Coventry after the war and the modern art and architecture created in other local towns such as Leamington Spa and Stratford Upon Avon. The re-building of Coventry from severe bomb damage after the Second World War allowed for the widescale implementation of new ideas of modern town planning that were taking hold across Britain. This focused upon the importance of a harmonious relationship between architecture and public art to create an inspirational place for people to live. We will be exhibiting material by artists such as Walter Ritchie, George Wagstaff, Trevor Tennant, Alma Ramsey and Peter Laszlo Peri.
The second explores the emphasis during the 1950s and 1960s in Britain on the importance of high-quality art in everyday life, particularly in the home and in schools, and the form this took in the Midlands. We are excited to include a number of textiles and ceramics by the innovative designer Tibor Reich, whose Stratford based textile company, was internationally renowned and produced designs for Coventry cathedral and Concorde among others.
The third strand explores the modern art commissioned for Coventry Cathedral and other local churches in this period and includes studies for sculptural murals, textiles and stained glass by leading artists of the period including John Piper, Graham Sutherland, John Hutton, Walter Ritchie and Margaret Traherne.
The last strand focuses on two prominent local artists in the period by whom we have many works in the collection. These artists are Dick Hosking, who was director of Coventry College of Art in this period, and his wife Alma Ramsey.
These themes will be explored through the display of sculptures, maquettes, sketches, photographs, paintings and textiles. The exhibition contains a large number of loans, including from the Herbert Art Gallery & Museum, Warwick University, Leeds Museums and a number of private individuals and artists. The exhibition includes a number sketches and sculptural maquettes which have rarely, if ever, been on display to the public.
Changing political priorities and the economic downturn of the 1970s saw the waning of the post-war optimism that had supported such a widespread programme of public art. In the following years, appreciation and understanding of the significance of the art and architecture produced in this period has lessened. Some of the public sculpture, particularly in Coventry, has fallen into disrepair and it under threat from re-development. This exhibition hopes to highlight the importance of the post-war art and design produced in this region and encourage visitors to recognise and re-engage with the public art around them.
Cost: FREE
More events