Making Histories: New Responses to the Ceramics Collections
Date: 20th March 2020 - 14th June 2020
Every day
Location: Art Gallery & Museum
Time: 10:00 - 16:00
Cancelled due to COVID-19.
Unfortunately, we have been advised from Central Government to close our venues; the Royal Spa Centre and Cinema, the Royal Pump Rooms and Town Hall to prevent the spread of COVID-19.
The Box Office team will be in contact with ticket holders for events in the next four weeks (Tuesday 17th March – Tuesday 14th April). If the closure period is extended, we will be in touch with bookers for future events in good time.
Please do not attempt to contact the Box Office as they are receiving a large volume of calls.
We apologize for the disappointment and disruption this may cause. The safety and well-being of our audiences, staff, artists and performers is of paramount importance.
Please continue to check our websites and social media channels for further information.
Making Histories: New Responses to the Ceramics Collection
20 March – 14 June 2020
Free
Seven contemporary ceramic artists from the across the Midlands have been invited to respond to Leamington Spa Art Gallery & Museum's diverse collection of ceramics. Rupert Brakspear, Dylan Bowen, Rhian Malin, Michelle Taylor, Rose Wallace, John Wheeldon and Jon Williams will show their work alongside some of the historical objects which inspired them, from Roman kitchenware to Regency tea-sets.
Sponsors: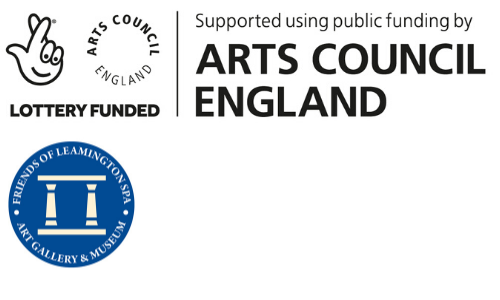 Exhibition events:
20 March, 1pm - Friday Focus Extra
Introducing 'Making Histories: New Responses to the Ceramics Collection'
Curator Lily Crowther introduces the new exhibition and explains how it is rooted in the ceramics collection at Leamington Spa Art Gallery & Museum. Find out more about the contemporary artists whose work is featured, and how they were inspired by local stories of making, using and collecting ceramics.
27 March, 1pm - Friday Focus
Rhian Malin
Rhian Malin's elegant porcelain vessels are inspired by traditional blue and white pottery. She often enlarges and repeats a detail which was historically used for borders or backgrounds, elevating it to a central feature. Rhian's work in 'Making Histories' is based on displays of porcelain in 18th century domestic interiors.
28 March, 11am-1pm – workshop
Make a 'Flatback' Figure, with Rose Wallace CPA
£30, pre-book
Find inspiration from traditional Staffordshire 'flatback' figures, and learn a range of pottery techniques. Personalise your figure by bringing along textured surfaces to emboss into the clay, or detailed items like jewellery to impress decoration and embellish your design with special memories. Your figure will be fired and glazed after the workshop.
3 April, 1pm – Friday Focus
Jon Williams
Jon Williams' tactile interactive work encourages touch and play. He is interested in the ways ceramics can move, feel and sound. Jon will introduce the work he has made for 'Making Histories', which allows visitors to make sounds with water, inspired by pre-Columbian Peruvian instruments and medieval watering pots.
23 April, 7pm, RSC studio
Lars Tharp
£15, pre-book
Ceramics and Asian art expert Lars Tharp is best known for his regular appearances on Antiques Road Show. Lars has been involved with historical and contemporary ceramics for 40 years as a curator, broadcaster and consultant. Don't miss this opportunity to hear his reflections on the themes of 'Making Histories'!
Cost: FREE
More events