Friday Focus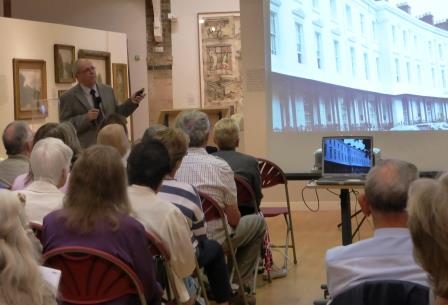 Date: 5th May 2017 - 2nd December 2017
Every week
Location: Art Gallery & Museum
Time: 13:00 - 13:30
Learn something new on your lunch break. Friday Focus lunchtime talks cover a wide range of topics. Come and discover some of the fascinating facts and stories behind our exhibits.
The talks are informal, start at 1.00pm and last about 25 minutes.

We also occasionally offer more in-depth talks, titled Friday Focus Extra. These events last around one hour.
29 September - Friday Focus Extra with Project Curator Jeff Watkin. An introductory talk on the Benevolent Despot - Alderman Alfred Holt exhibition.
6 October - Barry Franklin will be telling the story of Miss Joan Parsons who lived in Leamington in the 1930's with her father who was a retired vicar. She was musician (LRAM) and also learnt to fly aeroplanes. Barry will talk about the history of her life in Leamington using many adverts and articles from the Leamington Courier archive.
13 October - Artist Annabel Rainbow, the winner of the people's choice from the OPEN 2017, will talk about her textiles explaining both the concepts behind them and some of the processes she uses to create them.
20 October - History Curator Lily Crowther will give a talk on our collection of Ruskin Pottery. Ruskin Pottery was one of the leading producers of Arts and Crafts ceramics. The pottery was based in the West Midlands, and LSAG&M has a small collection of their work.
27 October - No talk (Half Term)
3 November - All Saints' parish church, Leamington, has an outstanding collection of embroidered textiles. A small selection is currently on display in the Spotlight area, and Fr Christopher Wilson will introduce the collection in more depth.
10 November - The museum has a number of delicate woven silk bookmarks and ribbons in its collection. Huw Jones, Curator of Human History, will talk about these Victorian silks and the Coventry industry that produced them.
17 November - David Guilding (head of Arts Services) will talk about his favourite work at the gallery and also talk about his vision for the service here at Warwick District Council.
24 November - Leamington on Sea - Sally Larke, our Learning & Engagement Officer will talk about the considerable selection of works in our collection which come from St Ives. She will tell the story of this remarkable artist colony and the surprising connection we have with it here in Leamington.
If you are interested in contributing to the programme please contact Sally Larke at sally.larke@warwickdc.gov.uk
Cost: Free, no need to book
More events