Friday Focus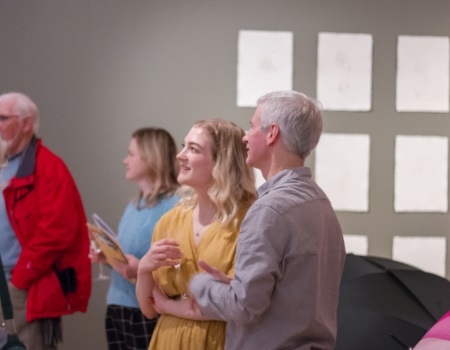 Date: 6th September 2019 - 31st December 2019
Every week
Location: Art Gallery & Museum
Time: 13:00 - 13:30
Learn something new on your lunch break. Friday Focus lunchtime talks cover a wide range of topics. Come and discover some of the fascinating facts and stories behind our exhibits.
The talks are informal, start at 1.00pm and last about 25 minutes.
We also occasionally offer more in-depth talks, titled Friday Focus Extra. These events last around one hour.
Talks run every Friday during term time:
6/9/19 An Entertainment: Huw Jones - As a finale to our current exhibition, Huw Jones our history curator, will be discussing the entertainment venues of Leamington Spa in more detail.
13/9/19 The History of Archery in Leamington Spa: India Wilson - Archery was very popular in Leamington Spa In the 19th Century. One of our Collections and Engagement Staff, India Wilson, who is herself a keen Archer will talk about its history here.
20/9/19 Coventry Biennial: Ryan Hughes - Ryan Hughes, founder and artistic director of Coventry Biennial, will introduce the themes and programme of Coventry Biennial 2019 which takes the international twin city movement as a starting point for a wide range of exhibitions, events and activities throughout October and November.
27/09/19 Harry Weinberger: Rebecca Moden -The artist Harry Weinberger (1924-2009) lived in Leamington and taught painting for many years at Lanchester Polytechnic, now Coventry University. This talk explores aspects of Weinberger's art, including discussion of some of his paintings at the Pump Rooms. It also considers the significance of his twenty-year friendship with the novelist and philosopher Iris Murdoch.
4/10/19 Fiesta Time: David Howe - David Howe, Director of the Warwick Words Festival which is taking place in and around Warwick this week, talks about how the concept of festival has spread through the country. Starting with the Edinburgh Festival in 1947,he will consider examples local, regional and national from the Leicester Comedy Festival in February to the wild, wacky Warwick Words this very week.
11/10/19 Local Pubs: Barry Franklin - Historian, Barry Franklin will discuss a pictorial record of Leamington pubs over the years.
18/10/19 Tammy Woodrow: From Diane Arbus to Cindy Sherman - Learning & Engagement Assistant Tammy Woodrow will introduce female photographers from the 1960s onwards.
25/10/19 Analogue Photographer: John Whitmore - Analogue photographer John Whitmore will return to show the black & white portraits he made during the previous Darkroom Day workshop at the Salon. The Salon is an engagement project situated in the foyer and is connected to the Diane Arbus exhibition. John will also talk about his own photographic practice.
1/11/19 Half term – no talk
8/11/19 – Photographic Artist: Faye Claridge - Artist Faye Claridge will talk about her photographic practice with striking places and people, dealing with issues of representation and ideas about national identity and social history. Have a look at her website www.fayeclaridge.co.uk
15/11/19 The Body as an art work: India Wilson - Come and listen to Learning & Engagement Assistant India Wilson who will tell you all about the history of body art and tattoos.
22/11/19 Daine Arbus: Anne Lyndon - Anne Lydon is the Curator of Photography for the Artist Rooms scheme which is part of the Tate Gallery, London. She will talk about Diane Arbus' work and life and the significance of her photographs.
29/11/19 End of exhibition talk: Tammy Woodrow, India Wilson and Maddie Bercis - Enjoy an overview of all the exciting 'Artist Rooms: Diane Arbus' exhibition events presented by our Learning & Engagement Team.
Talks stop for the festive period and resume again on Friday 17 January when there will be a talk about Cornelia Parker.
If you are interested in contributing to the programme please contact Sally Larke at sally.larke@warwickdc.gov.uk
Please note talks are subject to change due to being run on a volunteer basis
Cost: Free, no need to book
More events