Friday Focus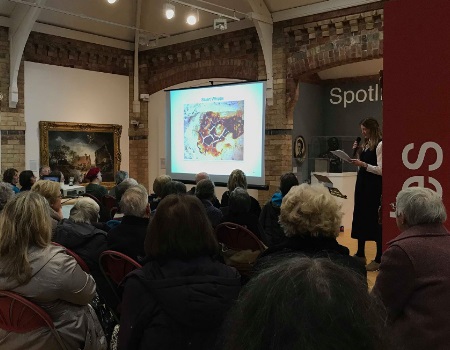 Date: 5th May 2017 - 21st December 2018
Every week
Location: Art Gallery & Museum
Time: 13:00 - 13:30
Learn something new on your lunch break. Friday Focus lunchtime talks cover a wide range of topics. Come and discover some of the fascinating facts and stories behind our exhibits.
The talks are informal, start at 1.00pm and last about 25 minutes.

We also occasionally offer more in-depth talks, titled Friday Focus Extra. These events last around one hour.
11 May - Curator, Alice Swatton will be talking about William Cobbing and the work that we have in our collection, Royal Pump Rooms (Ground Floor Plan), 2004. It is the work currently on display in the learning area. Alice will be talking a bit about the exhibition which took place in the Royal Pump Rooms and the links to the medical collections.
18 May - Russell Poulton will give a talk on Regenerating the Pump Room Gardens - how we plan to bring the Spa Gardens back to life using the Heritage Lottery Fund's Parks for People funding programme.
25 May - Pupils from Campion school have been working on a ceramics project with artist, Nicola Richards and will be talking today about the project and showing the beautiful mural they have made which is inspired by patterns from the Hammam.
8 June - Carole Sleight and Don Mason who represent Art in the Park and Warwickshire Open Studios will talk about these wonderful art events which take place each summer in Leamington. They will also reflect on their favourite works in our collection.
15 June - Tammy Woodrow will talk about Patrick Heron's 1970s untitled blue screen print which has been part of the Art Gallery's collections since 1995. Heron, who had intense links with Cornwall was a painter, textile designer and art writer. He was born in 1920 and died in 1999 leaving behind a prolific body of mostly abstract work.
22 June - Rose Winship, our Head of Cultural Services started her career here at the Pump rooms when it was a swimming pool. She will reflect on her memories of this wonderful building while also talking about her favourite piece in the gallery.
29 June - Barry Franklin will present a picture show about Leamington now and then. A fascinating look at how buildings in our town have changed over time in both appearance and use.
6 July - Chris Pitt is a local historian, who is well versed in the history of racing at Leamington. The Leamington Steeplechase was at one time second only to the Grand National in terms of importance. He will also talk about the history of racing in Warwick.
13 July - Victoria Smith is a collage artist who has been selected several times for our open exhibition. She will be discussing her playful work often made with old post cards that have an historical or whimsical message.
20 July - 7 September - Summer break
Please keep an eye out for tours about our First World War exhibition over the summer.
We will be back on September with many exciting talks ranging from the Suffragettes to Japanese prints…
There will be a special talk on November 9th to mark the end of the WW1 exhibition and commemorate this significant centenary.
If you are interested in contributing to the programme please contact Sally Larke at sally.larke@warwickdc.gov.uk
Cost: Free, no need to book
More events