Friday Focus online!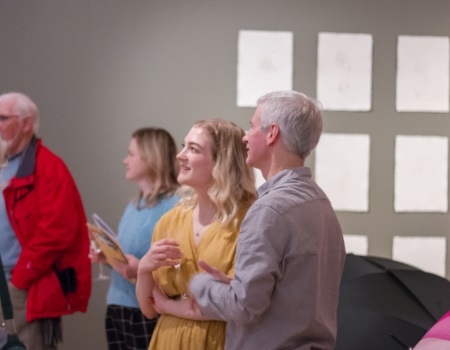 Date: 10th January 2020 - 30th September 2020
Every fortnight
Location: Art Gallery & Museum
Time: 13:00 - 13:30
Friday Focus sessions are the perfect opportunity to learn something new on your lunch break!
Friday Focus is a series of short informal talks from speakers, based around topics relating to our collection. As our gallery is closed, we have been collating some content for you to watch online - this includes a look into our Curators favourite pieces within the gallery, insights into the day-to-day runnings and talks from external speakers!
We will release our Friday Focus content at the usual time each Friday during term time at 1pm! So tune into our YouTube page to view the videos first, or revisit the previous talks section of this page where the content will be uploaded for you to rewatch and enjoy!
Upcoming Talks:
3rd July - Friday Focus Special: Curator's Choice video to mark the end of Pride Month. Our new Curator, Jane, presents the story of Shannon and Ricketts, a same sex couple who inspired and supported each other in their artistic endeavours during the early 20th Century. Jane also analyses Shannon's 'The man with the Greek vase', a portrait from our collection.
17th July - Jane Williams - Leamington Music Artist in Residence
31st July - 'Look we are open!' In conversation with Chloe Johnson
14th August - Jane Simkiss Bloemaert - The Prodigal Son
28th August - Aylesford Well: Victoria Slade
11th September - Dylan Bowen: 'Making Histories' artist talks about his work
25th September - TBC
Previous Talks:
19th June - Friday Focus: Tea, Coffee and Chocolate
This week on Friday Focus, join Leamington Spa Art Gallery & Museum's Curator of History, Lily Crowther as she gives a brief overview of the history of tea, coffee and chocolate. Friday Focus is a series of lunchtime lectures from those within the local art community. These are the perfect opportunity to learn something new, sit back and relax and enjoy a cuppa!
Previous Talks
5th June - Janette George of Warwickshire Open Studios
https://www.warwickshireopenstudios.org/
22nd May - Tammy Woodrow
https://tammywoodrow.jimdofree.com
8th May - Jon Williams - Eastnor Pottery
http://eastnorpottery.co.uk/about/jon-williams/
24th April - Jo Roberts - 'Back to the Land'
Visual artist, Jo Roberts, highlights a previous project called Back To The Land that she worked on with Leamington Spa Art Gallery & Museum.
17th April - Rupert Brakspear - Lost and Found: From Leamington Spa to Mancetter and the Hartshill Ridge
As part of the Making Histories exhibition, this presentation is an opportunity to find out more about tracking down places of ceramic production that have now vanished from our landscape (and the local clays that they depended on) and the processes involved in testing and preparing natural materials for use in projects that maintain a focus on designing and creating functional ceramics.
10th April - No talk, Easter Holidays
3rd April - Chloe Johnson: LS Lowry's The Mission Room, in conversation
Collections and Engagement Manager, Chloe Johnson, will be discussing her favourite artwork in our collection, LS Lowry's The Mission Room, 1937. As well as this, Chloe will be speaking about taking the art gallery experience online and all of the exciting content we have coming up!
27th March - Introducing 'Making Histories: New Responses to the Ceramics Collection
Curator Lily Crowther introduces the new exhibition and explains how the contemporary artists whose work is featured, were inspired by local stories of making, using and collecting ceramics.
If you are interested in contributing to the online programme please contact Sally Larke at sally.larke@warwickdc.gov.uk
Please note talks are subject to change due to being run on a volunteer basis
Cost: Free, no need to book
More events