Friday Focus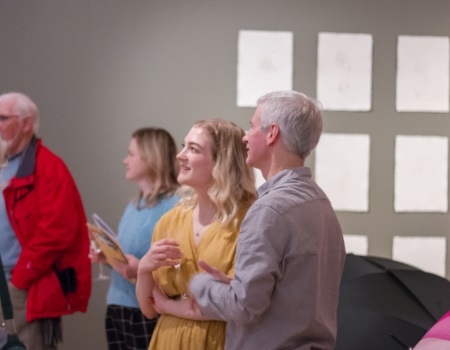 Date: 10th January 2020 - 10th July 2020
Every week
Location: Art Gallery & Museum
Time: 13:00 - 13:30
Learn something new on your lunch break. Friday Focus lunchtime talks cover a wide range of topics. Come and discover some of the fascinating facts and stories behind our exhibits.
The talks are informal, start at 1.00pm and last about 25 minutes.
We also occasionally offer more in-depth talks, titled Friday Focus Extra. These events last around one hour.
Talks run every Friday during term time:
28th February - Mave Dellor – Ethiopian artefacts from a local collection
Mave Dellor will talk about the current Mezzanine display which explores the daily life and unique culture of Ethiopia through this display of craft pieces, religious artefacts and everyday objects. Collector Mave Dellor lived in Ethiopia in the 1970s and has travelled there regularly since 2002. The highlights of her collection include elaborate Coptic Christian crosses and striking embroidered robes.
6th March - The Bradleys - 'A life in art - it's never too late'
When they fell in love in their 50s, the Bradleys decided they had one last shot to live their dream!
The Bradleys talk about how they have achieved their ultimate dream, specifically hosting their Radio Abbey show, 'Brunch With The Bradleys' and being a part of the Coventry Arts Collective.
13th March - Mark Tweedie – Pinhole Photography
Mark Tweedie is a pinhole photographer using experimental techniques to form black and white landscape photos and portraits. Mark will talk about his prints that were being sold earlier this month in our Winter Shop.
20th March - FRIDAY FOCUS EXTRA: Introducing 'Making Histories: New Responses to the Ceramics Collection
Curator Lily Crowther introduces the new exhibition and explains how the contemporary artists whose work is featured, were inspired by local stories of making, using and collecting ceramics.
27th March - Rhian Malin - 'Making Histories' Cermacist
Malin's elegant porcelain vessels are inspired by traditional blue and white pottery. She often enlarges and repeats a detail which was historically used for borders or backgrounds, elevating it to a central feature. Malin's work in 'Making Histories' is based on displays of porcelain in 18th century domestic interiors.
3rd April - Jon Williams
Williams' tactile interactive work encourages touch and play. He is interested in the ways ceramics can move, feel and sound. Williams will introduce the work he has made for 'Making Histories', which allows visitors to make sounds with water, inspired by pre-Columbian Peruvian instruments and medieval watering pots.
If you are interested in contributing to the programme please contact Sally Larke at sally.larke@warwickdc.gov.uk
Please note talks are subject to change due to being run on a volunteer basis
Cost: Free, no need to book
More events