Friday Focus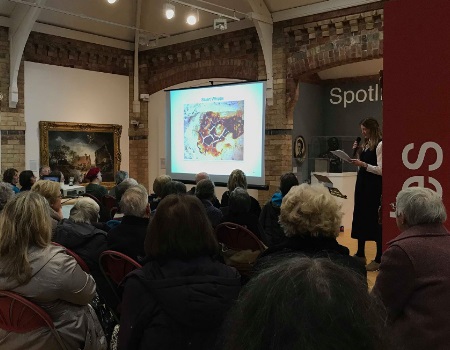 Date: 5th May 2017 - 21st December 2018
Every week
Location: Art Gallery & Museum
Time: 13:00 - 13:30
Learn something new on your lunch break. Friday Focus lunchtime talks cover a wide range of topics. Come and discover some of the fascinating facts and stories behind our exhibits.
The talks are informal, start at 1.00pm and last about 25 minutes.

We also occasionally offer more in-depth talks, titled Friday Focus Extra. These events last around one hour.
21 September - Christine Lyle - Delivering Art Therapy in a museum and gallery setting. We have been working in partnership with the NHS for the last 18 months providing art therapy to people with learning difficulties.
28 September - An illustrated talk by Keith Hancock and Jim Layton Popular music in Leamington and Warwick from 1945 to 1970. The years of Big Bands, Skiffle, Rock and Roll and Big Beat will be covered including musicians, venues and record shops. Included will be the role of the Pump Rooms and Gardens, Jephson Gardens and the Town Hall as well as many buildings and events within 150 yards of the Museum and Art Gallery." A short 'music in the gallery' finale will make an exciting end to the talk.
5 October - David Howe will give a talk about Sir Anthony Eden, MP for Warwick and Leamington when he became Prime Minister in 1955.
12 October - Vicki Slade: The Royal Pump Rooms at War. Collections & Engagement Manager Vicki Slade will talk about how the Royal Pump Rooms and Pump Rooms Gardens were used during the First World War.
19 October - Jacqui Kirk - Voting from the Front. Jacqui Kirk is a professional genealogist and local historian and tells of the logistical challenges of the 1918 election. This took place barely a month after the ending of the Great War and all the newly enfranchised men and women still away at the Front needed to have a vote.
26 October - Robert Mulraine will talk about local artist Thomas Baker (1809-1869) of Leamington. We have several paintings by the artist in our collection. Baker recorded his paintings in personal diaries. These important records are held in the collection at Birmingham Museums Trust. Robert Mulraine has created an excellent online database of the works of this little known British artist: www.thomasbakerofleamington.com
2 November – No Friday Focus (half term)
9 November _ Lily Crowther End of Exhibition talk After the Great War. In the aftermath of the First World War, lives were changed. Veterans were left disabled, families grieved, communities remembered and rebuilt.
16 November – India Wilson Art Gallery rehang: Part II. This talk will look at a selection of works from the permanent collection, discussing why they were chosen and the themes that they convey.
23 November - Amy Sharrocks will give an introductory talk to her exhibition 'only ever almost there'
30 November - Don Bernard – Japanese Prints
7 December - India Wilson Suffrage and the Destruction of Art. As part of our ongoing celebrations marking the centenary of partial women's suffrage, this talk will be looking at how and why Suffragettes fought to gain votes for women by attacking artworks around the country.
If you are interested in contributing to the programme please contact Sally Larke at sally.larke@warwickdc.gov.uk
Cost: Free, no need to book
More events