Friday Focus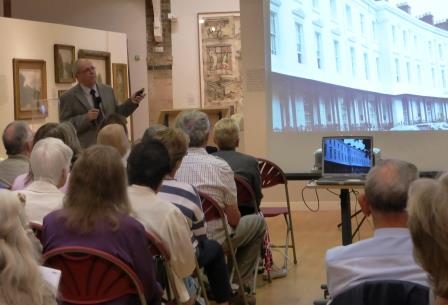 Date: 5th May 2017 - 21st December 2018
Every week
Location: Art Gallery & Museum
Time: 13:00 - 13:30
Learn something new on your lunch break. Friday Focus lunchtime talks cover a wide range of topics. Come and discover some of the fascinating facts and stories behind our exhibits.
The talks are informal, start at 1.00pm and last about 25 minutes.

We also occasionally offer more in-depth talks, titled Friday Focus Extra. These events last around one hour.
12 January - Armando Magnino is a local furniture designer and maker working in Warwick at Studio 16. He will be sharing about the design influences and inspirations for his beautiful furniture, some of which we have here at the gallery.
19 January - Stuart Whipps Exhibition Opening (Lights of Leamington 19 January – 15 April 2018) In the 1950s a festival called The Lights of Leamington drew 300,000 visitors to the town. Thousands of coloured electric lights turned Jephson Gardens into a wonderland until the last event took place in October 1961.This eclectic exhibition, selected and curated by Birmingham based artist Stuart Whipps, brings the theme up to date showing the diverse ways light runs through the collection at Leamington Spa Art Gallery & Museum. Lights used during the historic festival will be on display alongside light emitting objects linked to Leamington's history, such as lights used in medical spa treatments, and paintings and photographs depicting or utilising light. Whipps will talk about the show and new work which has been created in response to works in the collection.

26 January - Tammy Woodrow works at the gallery researching and cataloging our collection. She will be sharing and explaining the context and history of some of the photographs which are part of our archive.
2 February - No Friday Focus because of the main gallery rehang
9 February - Sally Larke and Alice Swatton will talk about the gallery rehang, the reasons behind the work chosen and the curation of the work. Several of the paintings and sculptures chosen have been selected specifically to appeal to those living with dementia or learning difficulties and we are seeking to provide a multi sensory experience by providing handling objects that help all of us to understand the art better.
16th February - Lyndall Phelps is the artist who has redesigned the foyer area which is now part of the gallery. Her designs were inspired by tile patterns found in the gallery and have been recreated into modern, light patterns. She will talk about the history of these designs and how she created the designs for our wonderful new foyer space. She will be at the gallery all weekend to discuss further so do pop in and say hello.
23 February - Half term (no Friday Focus)
2 March - Victoria Smith is a local artist and has been selected several times for our open exhibition. Her collages use old postcards and magazines which she then recreates, playfully telling a story often with a touching or whimsical sentiment.
9 March - Colin Cohen - Spotlight exhibition
Colin will talk about his family connection the Solomon family and some of his personal art collection which he's kindly let the gallery use for a spotlight exhibition.
16 March - Jacqui Kirk 'In Search of the Sandeman Don'
For many years the man who created the iconic "Don" poster for Sandeman port was thought to be one Georges Masseot. Now revealed to be the Scottish commercial artist George Massiot Brown Jacqui Kirk, professional genealogist and local speaker, tells the story of her search for the elusive Mr. Brown and of how she found not one but three persons of that name.
If you are interested in contributing to the programme please contact Sally Larke at sally.larke@warwickdc.gov.uk
Cost: Free, no need to book
More events