Friday Focus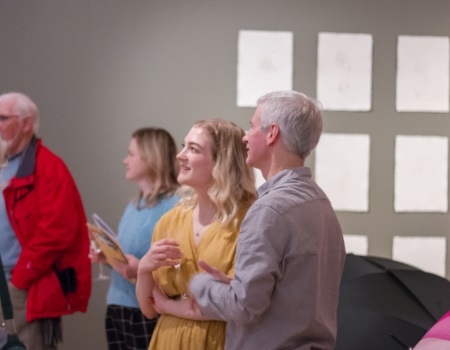 Date: 10th January 2020 - 10th July 2020
Every week
Location: Art Gallery & Museum
Time: 13:00 - 13:30
Cancelled due to COVID-19.
Unfortunately, we have been advised from Central Government to close our venues; the Royal Spa Centre and Cinema, the Royal Pump Rooms and Town Hall to prevent the spread of COVID-19.
The Box Office team will be in contact with ticket holders for events in the next four weeks (Tuesday 17th March – Tuesday 14th April). If the closure period is extended, we will be in touch with bookers for future events in good time.
Please do not attempt to contact the Box Office as they are receiving a large volume of calls.
We apologize for the disappointment and disruption this may cause. The safety and well-being of our audiences, staff, artists and performers is of paramount importance.
Please continue to check our websites and social media channels for further information.
The talks are informal, start at 1.00pm and last about 25 minutes.
We also occasionally offer more in-depth talks, titled Friday Focus Extra. These events last around one hour.
Talks run every Friday during term time:
13th March - Mark Tweedie – Pinhole Photography
Mark Tweedie is a pinhole photographer using experimental techniques to form black and white landscape photos and portraits. Mark will talk about his prints that were being sold earlier this month in our Winter Shop.
20th March - FRIDAY FOCUS EXTRA: Introducing 'Making Histories: New Responses to the Ceramics Collection
Curator Lily Crowther introduces the new exhibition and explains how the contemporary artists whose work is featured, were inspired by local stories of making, using and collecting ceramics.
27th March - Rhian Malin - 'Making Histories' Cermacist
Malin's elegant porcelain vessels are inspired by traditional blue and white pottery. She often enlarges and repeats a detail which was historically used for borders or backgrounds, elevating it to a central feature. Malin's work in 'Making Histories' is based on displays of porcelain in 18th century domestic interiors.
3rd April - Jon Williams Eastnor Pottery - Please touch!
Soft clay is such an inclusive and accessible material. No matter how slight the interaction you can always make your mark. Artist Jon Williams will talk about his ambition to create ceramic objects that embody similar notions of interaction and engagement. Jon will also demonstrate how one might engage with his pieces in the Making Histories exhibition and offer the opportunity for attendees to 'play' with the work too.
10 & 17 April – no talks Easter holidays
24th April - Huw Jones and Richard Phillips: Hidden Leamington in the Beethoven years
Huw Jones our history curator and Richard Phillips form Leamington music talk about aspects of Beethoven between 1770 -1827 and what was going on in Leamington Spa during this period.
1st May - Rupert Brakspear - Lost and Found: From Leamington Spa to Mancetter and the Hartshill Ridge
As part of the Making Histories exhibition, this presentation is an opportunity to find out more about tracking down places of ceramic production that have now vanished from our landscape (and the local clays that they depended on) and the processes involved in testing and preparing natural materials for use in projects that maintain a focus on designing and creating functional ceramics.
8th May - Bank Holiday – no talk
15th May - David Morse: Warwickshire Home Guard
The Birth of the Home Guard. To commemorate the 80th anniversary of the founding of the Local Defence Volunteers or Home Guard in May 1940, David Morse will talk about the formation and growth of this volunteer force. There will also be a display in the Gallery about the Home Guard.
22th May - Tammy Woodrow: St. Mary's Allotments Sculpture Trail
Tammy will talk about various artist installations which are currently in and around St. Mary's allotments. These include artists working in many different media and respond to the beauty found in many allotments.
29th May - No talk – half term
If you are interested in contributing to the programme please contact Sally Larke at sally.larke@warwickdc.gov.uk
Please note talks are subject to change due to being run on a volunteer basis
Cost: Free, no need to book
More events