Foster & Allen: Timeless Memories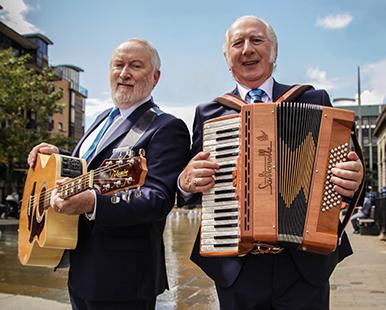 Date: 16th April 2021
Location: Main Stage, Royal Spa Centre
Time: 19:30
This date has been rescheduled to 16th April 2021.
This event is now taking place on a new date. If you had bought tickets for the original date, you will shortly receive an email informing you of the new details. Please retain your original ticket as this will be valid for the new date.
If you had purchased a ticket for the original date and now are unable to attend the new date, we can process a refund for you.
If you need a refund, please respond to the email that was sent by us with your name, contact number and ticket details, and we will make sure to call you and process the refund as soon as possible.
---
Blarney charm and Celtic tunes from this evergreen Irish folk duo Mick Foster and Tony Allen, who have been releasing records since 1978. Since then they have released a staggering 29 albums and have album sales in excess of 19 million copies worldwide. They have toured the world, performing for audiences of all ages and cultures. Their phenomenal success and endurance can be credited to the strength of their friendship. Join them for an evening that features musical hits One Day at a Time, Everything is Beautiful, Amazing Grace, and many more. Foster & Allen's style and easy listening sound remains as fresh as ever.

Cost: £25
More events