Are You In This? Leamington Spa in the Great War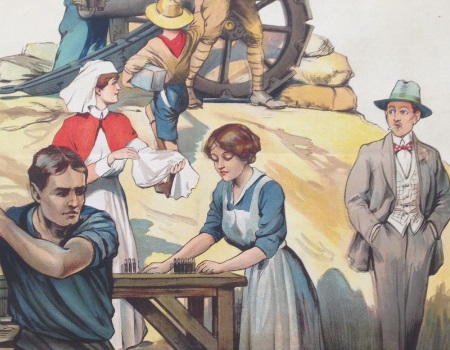 Date: 28th July 2018 - 11th November 2018
Every day
Location: Art Gallery & Museum
Time: 10:00 - 16:00
This exhibition will mark the centenary of the end of the First World War, and tell the story of Leamington Spa and its people during the conflict.
Thousands of local men and women served in the armed forces or as nurses during the war. Troops were billeted in the area and wounded soldiers were treated at the local hospitals. Women took over men's jobs. People gave their time and money to the war effort in a wide range of ways. The lives of many local people were affected forever, whether by disability or bereavement.
The exhibition will explore these stories through fascinating objects including: uniforms, medals and weapons; photographs and personal letters; and medical equipment including a wheelchair and an early x-ray machine. This will also be a rare opportunity to see a large number of First World War posters from the museum's collection.
1 hour walking tours around Leamington First World War landmarks will also be available on the following dates:
Saturday 18 August, Friday 5 & Saturday 6 October, Friday 2 & Saturday 3 November at 11am & 2pm
Call the Box Office on 01926 334418 to book a place.
Cost: Free admission.
More events