Jean Morgan contacted us to say: 'We have just visited your exhibition, which I found very moving. It brought back memories of family members who served, and their stories.' Mrs Morgan has kindly shared the story of her grandfather, Edgar Warburton.
'Your exhibition has recalled memories of Grandpa. Edgar Warburton, born 1889, married my Grandmother in 1913. She was a widow with two young girls, my mother being the youngest. In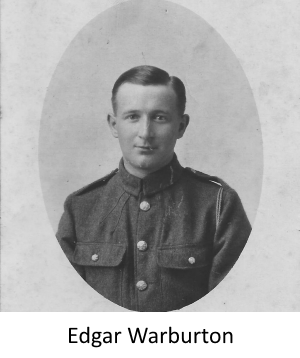 1914 they had a daughter of their own.
'The story is that in 1915 when the Army was recruiting, Grandpa decided to volunteer. My grandmother asked, "What will happen to me and the girls if you go?" and Grandpa replied, "What will happen to you and the girls if I don't go?"
'He enlisted as a Sapper in the Royal Engineers (Railway Division) (Regimental number WR 256662) just before Christmas in 1915. He would have trained at Longmoor in Hampshire on the Woolmer Instructional Military Railway. He was mobilised in June 1916 and sent to the Front. I suspect he served near Ypres, as we had a souvenir from there.
'He was transferred to the Army Reserve in May 1919. He sent a telegram home from St. Pancras, now sadly vanished, to say he was on his way home. The final words on it were "cold, tired, and hungry".
'Grandpa would never talk about his time in the War. He had the British War Medal and Victory Medal, and when as a small child I played with them and asked him what he got them for he said, "Eating bully beef".
'Although not injured, his lungs were damaged by Mustard Gas, and he subsequently had bronchial problems. He died of pneumonia in 1964.'
We would love to hear more family stories of the Great War; you can share them in our Memory Books in the exhibition and in the foyer of the Royal Pump Rooms.