Raymond Sleath was born in Leamington Spa in 1894. His father ran a cycle company which had premises on Clemens Street and the Parade. Raymond served his apprenticeship at his father's firm. The family lived at Glendale, Radford Road in Leamington.
Raymond volunteered for active service soon after the war broke out, joining the 15th Battalion, Royal Warwickshire Regiment, on 17 November 1914. This was one of three pals battalions raised in Birmingham. Pals battalions were recruited from people with strong local ties, such as a workplace or a school. It was felt that more men would enlist if they could serve with their friends or colleagues. Many of the pals battalions spent most of 1914 and 1915 training and first saw action at the Battle of the Somme in 1916, where they suffered heavy losses.
We don't know why Raymond joined the Birmingham Pals. Perhaps he was working in Birmingham at this time or had friends from there. Whatever the reason, he fought at the Somme and was badly wounded at Falfemont Farm in September 1916. He suffered wounds to his arms, face and foot and lost the use of one hand.
Raymond was sent to Holmdene VAD Hospital in Leamington to recover from his wounds. Wounded soldiers were encouraged to do handicrafts and despite his disability Raymond made an embroidery of Leamington's coat of arms. His embroidery won first prize in an exhibition of handicraft made by patients from over 20 VAD hospitals in Warwickshire, which was held at Leamington Town Hall in March 1917. This embroidery is now in the museum's collection.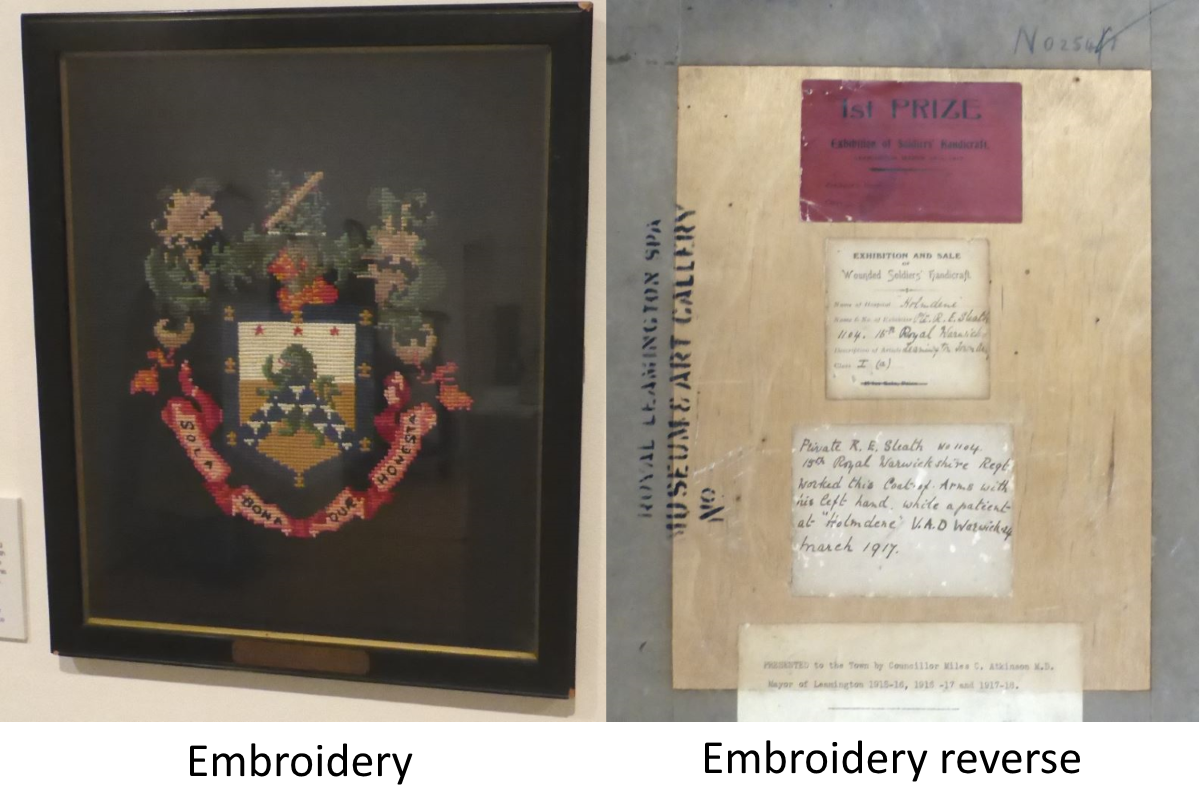 Raymond was discharged from the army in May 1917. He was awarded a silver badge, which discharged soldiers wore to show that they were not avoiding the war through cowardice. He married Beatrice Sturgess in 1920, but sadly died in 1927.