Many women did their bit for the war effort by sewing or knitting. They made warm clothes for troops, and bandages, bedclothes and other necessities for hospitals. They even made hessian sacks for use as sandbags at the front.
Volunteers in Leamington included Gertrude Letts, who was presented with this certificate and trophy after the war in recognition of her efforts.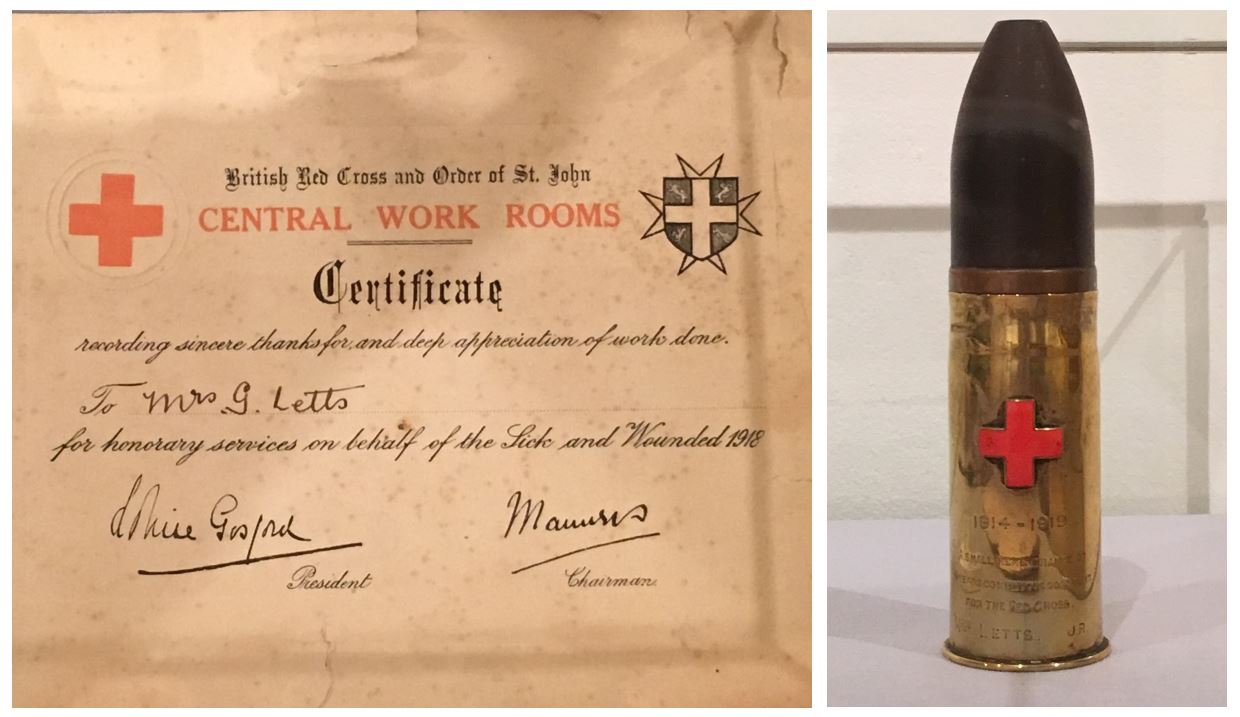 Local shops supplied the seamstresses with materials. Bobby's department store on the Parade advertised special stock of blankets, bandages, calico and flannel as early as August 1914. Francis & Sons, a draper's shop on Bath Street, offered discounts to the Red Cross and other sewing circles.
In January 1915, the 2nd Battalion, Royal Warwickshire Regiment sent home an appeal for mittens, gloves and cardigans. The following autumn, the Mayoress launched an appeal to send socks and scarves to the men serving in Mesopotamia.
At the beginning of 1916, the Red Cross opened a supply depot at 21 Beauchamp Square. Volunteers there made shirts, pillowcases, trench foot boots, slippers, bags, pyjamas and other items. On just one day in February 1916, over 50 workers made more than 600 garments. Others stitched at home and brought in their finished work, ready to be sent to hospitals around Britain and at the front. By August 1916, the depot had dispatched 8150 bandages and dressings and 3573 garments.
Over the last few months, volunteers from the Arts Society Royal Leamington Spa have summoned up the wartime spirit by making a patchwork coverlet for the exhibition at the Art Gallery & Museum. You can admire their handiwork on our hospital bed, in the family corner of the exhibition.