There were seven temporary Red Cross hospitals in Leamington, Warwick and Kenilworth, all staffed by volunteers known as VADs (Voluntary Aid Detachments).
These supplemented the permanent facilities at the Warneford Hospital and the Royal Pump Rooms. Some local families made particularly significant contributions to the care of the wounded.
The Olive family lived at Avon Royd, 33 Kenilworth Road. Dr Eustace Olive was an Honorary Surgeon at the Warneford Hospital on Radford Road. He had held this post for many years, and was in his fifties by the time the First World War broke out. Eustace's wife, Annie, became the Commandant at Holmdene VAD hospital. The hospital was located at 36 Warwick New Road, and Dr Olive visited regularly to help oversee the care of the patients there. Annie Olive was awarded an MBE in June 1918. Eustace and Annie's twin daughters, Emily and Catherine, turned 18 in 1914. They both served as nurses at Holmdene.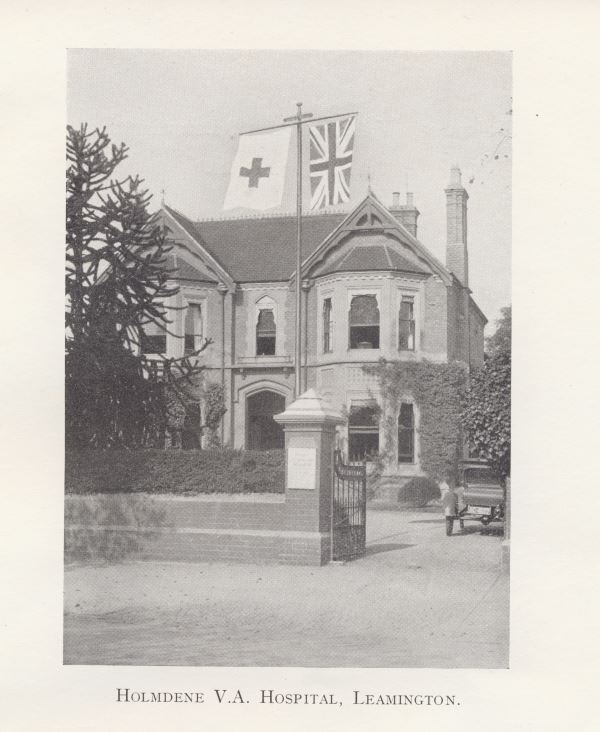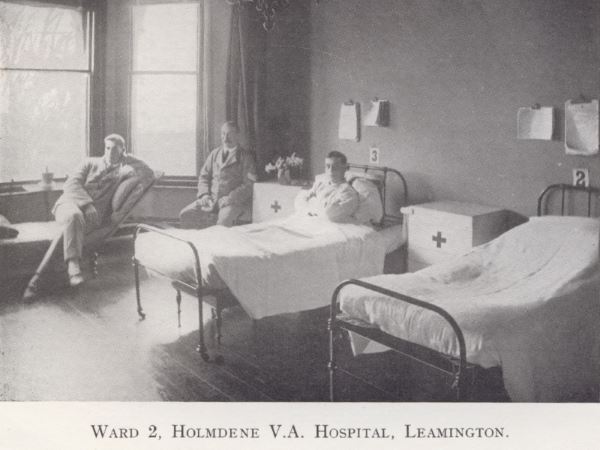 The Winstanley family of Crackley Hall, Kenilworth, lost their youngest son, Oswald Coke Winstanley, at Gallipoli. Oswald's older brothers, George and Harold, and their adopted sister Adela Wallace, all served as VADs. They worked at the Kenilworth VAD hospital, which was housed in the new Parochial Hall on the High Street.
Amy Daly was the Commandant at the Warren VAD hospital on Lillington Road. Like Annie Olive, she was also awarded an MBE for her services. Amy had five children, two of whom helped at the Warren: Doris, aged 21 in 1914, was the hospital's quartermaster, and her younger sister Amy Vera was a nurse. Amy's middle son was Ivan de Burgh Daly, a Flight Sub-Lieutenant who went on to become a distinguished doctor after the war. Muriel de Burgh Daly, possibly Ivan's wife, shared the family home at Raford, 49 Kenilworth Road; she served as a VAD nurse in Malta, France and Italy.
Charles Edward Leigh of Holly Walk was a land agent, and was aged 57 in 1914. He volunteered as an ambulance driver in Dunkirk. His elder daughter Violet started out as a nurse at Holmdene and Guy's Cliffe VAD hospitals, then moved to the specialist hospital for amputees at Roehampton. Her younger sister Nancy was a nurse at the Warren.