Many families suffered the loss of more than one son during the First World War.
This is the story of one such family from Leamington. Fred, William and Jack Tims were sons of Esther Tims. Esther lived at 16 Kenilworth Street in Leamington and worked at the Albert Hall next door.
All three brothers volunteered to join up early in the war. Jack joined the Warwickshire Royal Horse Artillery. He served in France from March 1915, continuing into 1919 as part of the army of occupation in Germany. In our collection we have postcards that he sent to his sister Ethel during the war. Many of these were embroidered postcards made by French and Belgian women to sell to soldiers as souvenirs.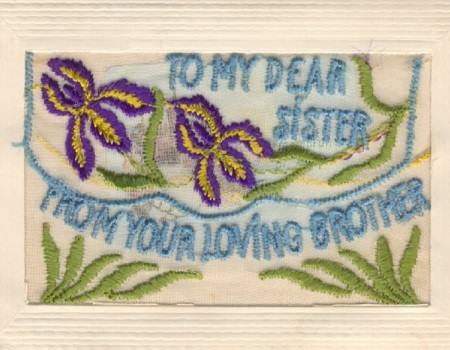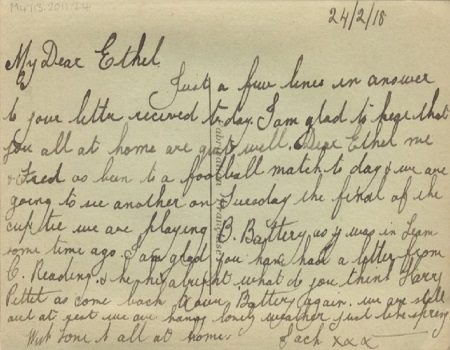 24/2/18

My Dear Ethel

Just a few lines in answer to your letter received today. I am glad to hear that you all at home are quite well. Dear Ethel me and Fred has been to a football match today & we are going to see another on Tuesday the final of the cup tie we are playing B Battery as it was in Leam some time ago. I am glad you have had a letter from C Reading & he is alright. What do you think Harry Pettit as come back to our Battery again. We are still ??? at rest we are having lovely weather just like spring.

With love to all at home.

Jack
Fred joined the 9th Battalion of the Royal Warwickshire Regiment. This battalion landed in Gallipoli in July 1915 and remained there until early 1916, when it was transferred to Mesopotamia (present day Iraq). We have a letter that Fred wrote to his mother Esther on 7 February 1917. This may have been the last letter he wrote as he was killed in action at Baghdad on the 1st of April. Fred is buried in Baghdad.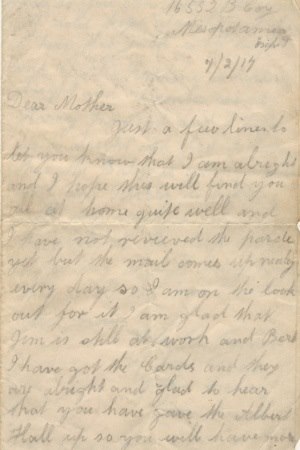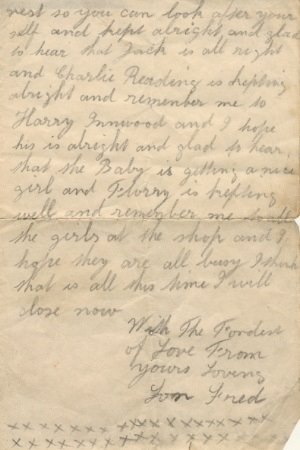 16552 B coy
Mesopotamia
7/2/17

Dear Mother

Just a few lines to let you know that I am alright and I hope this will find you all at home quite well and I have not received the parcel yet but the mail comes up nearly every day so I am on the lookout for it. I am glad that Jim is still at work and Bert. I have got the cards and they are alright and glad to hear that you have gave the Albert Hall up so you will have more rest so you can look after yourself and kept alright and glad to hear that Jack is all right and Charlie Reading is keeping alright and remember me to Harry Innwood and I hope his is alright and glad to hear that the baby is getting a nice girl and Flossy is keeping well and remember me to all the girls at the shop and I hope they are all busy. I think that is all this time I will close now.

With the fondest of love from your loving son Fred
William was married to Florence and living in Coventry when war broke out. He joined the 1/7th Battalion of the Royal Warwickshire Regiment and his battalion went to France in March 1915. He was killed in Belgium on 7 June 1916 and is buried at La Plus Douve Cemetery.
William and Fred are commemorated on Leamington's war memorial.
Author: Huw Jones