This photo comes from an album which belonged to Dorothy Burbury, who volunteered as a nurse with the Red Cross during the First World War.
It shows members of staff at the Warren, a Voluntary Aid Detachment (VAD) hospital at 43 Lillington Road, Royal Leamington Spa.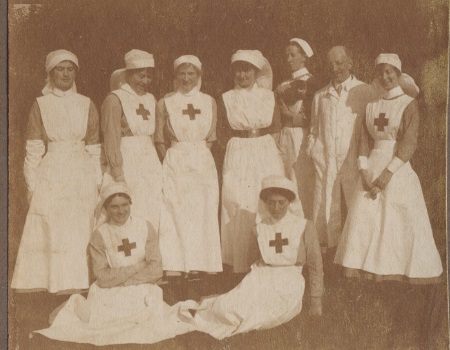 Back row, L-R:
1. Unknown. This young woman was probably a nurse probationer, as she does not have a red cross on her uniform.
2. Nurse M F Pearson. We don't have any more information about Nurse Pearson, so if you know who she was, please get in touch.
3. Nurse Margery Holt. Margery was the youngest child of James Holt, a wealthy Manchester cotton merchant. In 1916 the family moved into their newly-built home, Mallory Court, a grand country house in Tachbrook Mallory.
4. Sister Walls. Every VAD hospital had at least one trained nurse; she was one of the very few paid members of staff.
5. Nurse Agnes Firmstone. Agnes was a single woman in her early forties, and lived at 55 Beauchamp Avenue, Leamington, with her widowed aunt.
6. Dr Bernard Rice. Dr Rice had worked at the Warneford Hospital on Radford Road, Leamington, for many years, and was one of two doctors who volunteered at the Warren.
7. Miss Doris Daly. Doris was the assistant quartermaster of the Warren, and her younger sister Amy Vera was a nurse. Their mother, also called Amy, was the hospital's commandant, and was awarded an MBE for her services.
Front row, L-R:
1. Nurse Ethel Sparrow. Ethel was a member of the Flavel family, owners of a prominent local firm which made cooking and heating appliances. During the war, the Flavel factory was turned over to the manufacture of munitions.
2. Nurse Ethel Ann. Ethel and her younger sister Mary had grown up in the home of their uncle, George Barnes, an engineer's photographer in Coventry. During the war, Ethel lived at Welbeck Lodge in Dale Street, Leamington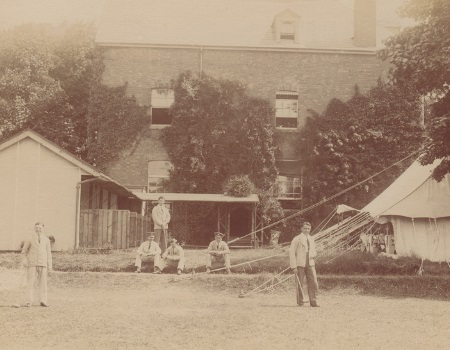 In this photo, also from Dorothy Burbury's album, you can see patients relaxing in the garden outside the hospital. The outbuildings and tent provided extra space and fresh air for convalescent men.
Author: Lily Crowther